HK director honored at movie festival
By Hong Xiao in New York | China Daily | Updated: 2019-07-04 08:05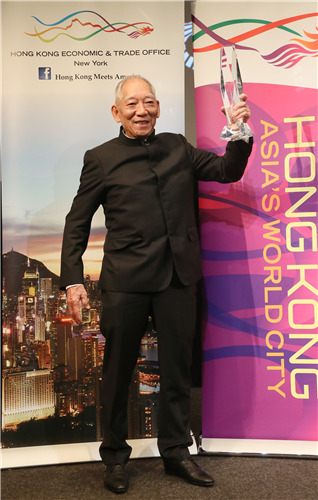 In recognition of his substantial contribution to contemporary kung fu and action movies, Hong Kong choreographer and director Yuen Woo-ping was honored with the Star Asia Lifetime Achievement Award at the ongoing 18th New York Asian Film Festival.
At a news conference on Monday at the Lincoln Center in New York, Yuen said that passion had brought him this far.
"You can never carry on with something for decades if you are not interested in it," he says.
To Western audiences, Yuen is best known for his work on The Matrix, Crouching Tiger, Hidden Dragon and the Kill Bill movies.
Born in 1945 in Guangzhou, Guangdong province, Yuen was a child when he started learning martial arts from his father, Yuen Siu-tien, the first kung fu choreographer in the Hong Kong movie industry and a prominent actor.
Starting his film career in the 1960s in Hong Kong, Yuen worked as an actor and stuntman for years.
In 1978, he made his directorial debut with Snake in the Eagle's Shadow, followed by Drunken Master, two films that not only launched the career of international star Jackie Chan, but also created the kung fu comedy genre.
According to Asian Movie Pulse, Yuen's filmography is "a litany of kung fu movie classics marked by breathtaking innovations in fight choreography and genre stylings".
Having worked in the film industry for more than 50 years, Yuen has produced countless classic action movies from Hong Kong to Hollywood.
Speaking at the awards ceremony, director of the Hong Kong Economic and Trade Office in New York, Joanne Chu, praised Yuen for his tremendous contribution to the development of Hong Kong action cinema, and for bringing the unique genre of Hong Kong kung fu movies to the world's screens.
Following the awards presentation on Monday night, Yuen's latest work, Master Z: Ip Man Legacy, was screened as one of 10 films at Hong Kong Panorama, a program produced by the NYAFF and supported by the HKETONY.
To showcase the many faces of Hong Kong cinema, the 10 films from the Hong Kong martial arts, drama and comedy genres are being screened as part of the festival which runs from June 28 to July 14.
According to Chu, her office has participated in the film festival for 11 consecutive years to promote Hong Kong film and showcase its homegrown talent to audiences in the United States.
Other movies featured in the Hong Kong Panorama film series this year include the international premiere of The Attorney and the North American premieres of The Fatal Raid, See You Tomorrow and Missbehaviour.
Chu says that the Hong Kong special administrative government will remain committed to supporting the long-term development of the region's film industry.a