Irrepressible Zhang aces another major milestone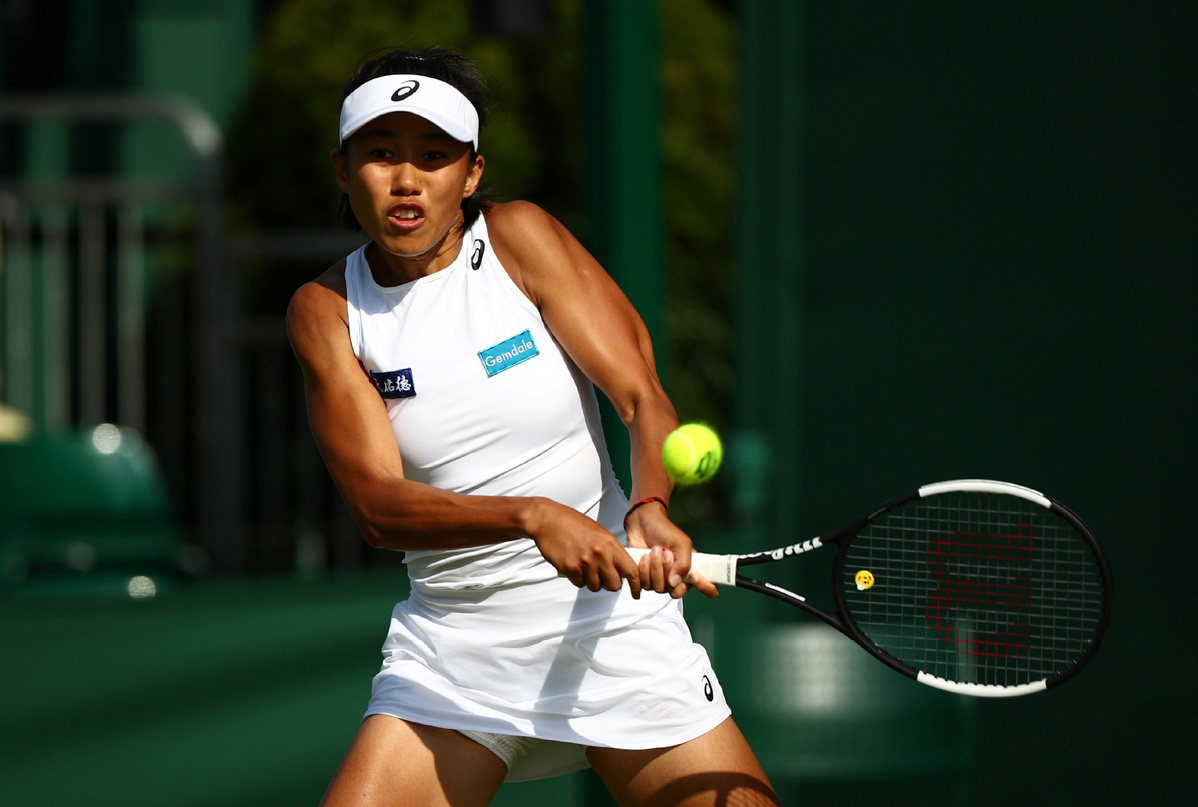 Zhang Shuai reveled in producing another little piece of Chinese tennis history at Wimbledon on Wednesday.
The 30-year-old beat Belgium's Yanina Wickmayer 6-3, 6-2 to reach the third round at the All England Club for the first time and become the fourth Chinese woman (along with Li Na, Zheng Jie and Peng Shuai) to make the last 32 of every Grand Slam.
Afterward, Zhang was quick to share her joy with the fans that have stuck with her throughout her 13-year pro career.
"Thank you to all the Chinese fans; I really enjoyed playing and fighting when I was surrounded by the voices of your cheering," she wrote on Weibo.
Next up for the world No 50 is 2018 Australian Open winner Caroline Wozniacki.
Zhang, a Tianjin native, has every reason to believe she can produce an upset after winning the Australian Open doubles title with Sam Stosur in January and stunning French 23rd seed Caroline Garcia in the first round at Wimbledon to reach another individual milestone.
"Finally, I won a game in each Grand Slam," Zhang said after ousting Garcia.
"I know that those who win all the time might say I'm too easily satisfied, but for ordinary players like me it means a lot."
Zhang could also challenge for doubles honors at Wimbledon.
She has again teamed up with Stosur in the women's draw and is partnering with another Aussie, John Peers, in the mixed competition.
"To win a Grand Slam in 2019 I signed up for matches in singles, doubles and mixed doubles," said Zhang.
"I only have four chances in the singles a season, but together with doubles and mixed doubles, I have 12 chances.
"I never thought I could achieve my goal this early this year when I won the Australian Open doubles title with Sam Stosur. I really cannot tell if it's because my dream pushes me forward or I keep motivated by pursuing my dream.
"I really want to thank my two Australian partners. I played bad before, but they did not give up on me."
In the build-up to Wimbledon, Zhang ruffled a few feathers when she accused 20-year-old British player Katie Swan of failing to correct an alleged bad line call at Eastbourne.
"Who can tell me what's true? They said it was 100 percent sure the ball was out, including my opponent. Sometimes the integrity is devaluation..." Zhang wrote in broken English on Twitter after her victory.
Swan hit back, tweeting: "I don't think it's fair to blame me on this...it was the line judge's call and in the moment I didn't see it. I was just playing tennis. There were many bad calls for both players. This has nothing to do with my integrity."
Whatever the rights and wrongs of the argument, some - Zhang included - have suggested the spat was a sign of the Chinese player's tough resolve and spirit.
"When I encountered unfair situations before, I would just choose to keep silent," Zhang said in a Titan Sports article.
"But I realized that I couldn't always be like that. Others won't hate you when you show your attitude. Just like this time, many have supported me, telling me I'm doing the right thing."
Zhang has also found her voice in defense of Chinese tennis.
With the WTA increasing its presence here, some players criticized adding the Zhengzhou Open to the calendar, just after the US Open in September.
But Zhang thinks the dissent is ludicrous.
"Some players are being too dramatic in claiming the schedule must be changed," she said. "I don't speak too much, but I couldn't keep my mouth shut that day.
"Each year, Asian players travel two to three months to Europe to play matches.
"If some players think it takes too long in Asia to play, they can choose to rest. Why are they not happy to see there are more tournaments in my country?
"Our players, media and the fans have made great efforts in leveling up tennis development in China, and that's the right we earned. I just protected our right."