Sales soar in June as Audi bucks current market performance
By Li Fusheng | China Daily | Updated: 2019-07-08 08:47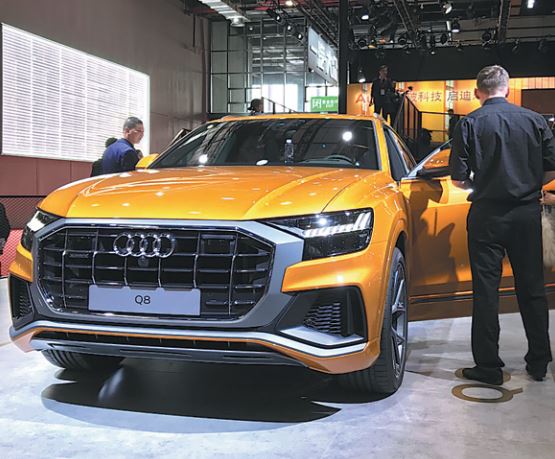 Audi's China sales jumped 22.5 percent year-on-year in June to 58,788 units, helping the German premium carmaker to consolidate its position in the world's largest automotive market.
With the latest surge, Audi had delivered 311,871 vehicles from January to June in China, up 2.1 percent from the same period in 2018, according to figures released last week.
Two other major premium vehicle brands-Mercedes-Benz and BMW-haven't released China sales for June.
Audi's strong growth in June was thanks to the improved sales performance of models locally produced at FAW-Volkswagen, a Chinese joint venture which manufactures and sells Volkswagen and Audi-branded vehicles, the company said.
Statistics show that sales of China-made Audi cars in the month, which accounted for 85 percent of the total, went up 14.2 percent from June 2018.
Among others, FAW-Volkswagen delivered 14,194 of its Q5L model in June, up 64.7 percent year-on-year, consolidating its position in the popular SUV segment.
Sales of the A4L sedan in June stood at 14,256, making the model the best-selling car in its segment. Its monthly sales averaged more than 14,000 in the first half of 2019.
The Q2L SUV, which is targeted at young customers, is gaining in popularity as well, with its sales in the month up more than a third.
The brand's imported vehicles' sales grew even faster in June, with sales soaring 109 percent to 8,700, according to FAW-Volkswagen.
Of them, it delivered 2,413 Q7 SUVs, up 85.4 percent year-on-year. Audi's flagship sedan A8L saw its June sales go up 42.7 percent from the same month last year. The combined deliveries of its three high performance cars including the R8 totaled 1,957.
FAW-Volkswagen said it expects the sales momentum to continue into the second half of the year, with sales of the models released in Q1 and Q2 growing, and a number of new models, the e-tron and the Q8, becoming available later this year.
The e-tron will be Audi's first ever electric SUV. It will be manufactured in China starting from 2020.
Audi said it will develop more high-end new energy vehicles for Chinese customers as the country is one of the fastest-evolving car markets in the world.
Liu Yigong, general manager of FAW-Volkswagen, said he expects Audi to become a leading player in China's new energy vehicle market by 2025, with 30 percent of its total sales in the country being such vehicles.
Audi has been the best-selling premium vehicle brand in China for the past three decades.