Volunteers lend a helping hand to Xinjiang patients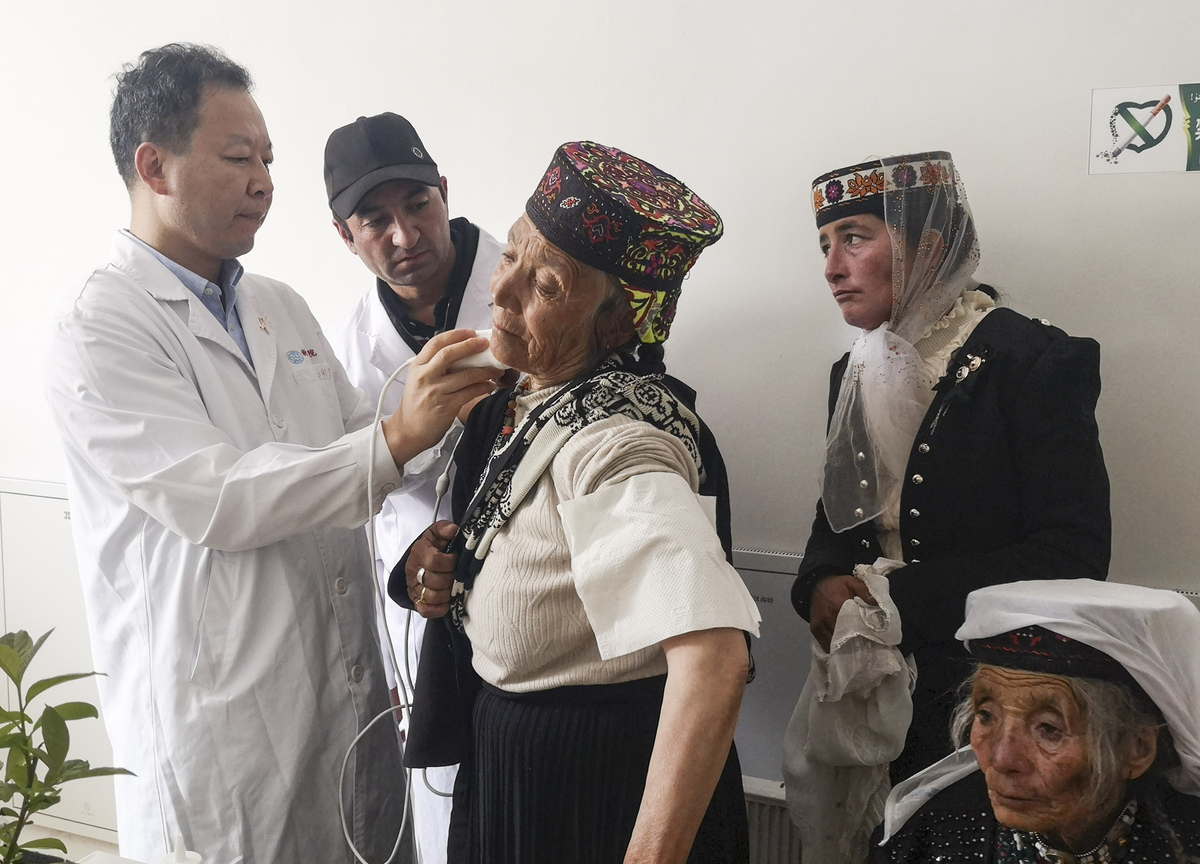 Experts from first-tier cities are helping to improve medical services in the Xinjiang Uygur autonomous region by giving free treatment, training and grassroots education.
Some come from Shanghai, where a project dubbed "silver age action" was launched by the municipal government in 2003 to encourage elderly experts to provide free medical services in Xinjiang for about two months every year. In the 16 years since it was launched, 382 elderly experts have taken part, benefiting more than a million people.
While medical treatment is the main focus, the project also covers nine other areas, including education, culture and psychological counseling.
Liu Hongdi, 69, used to be chief ophthalmologist at the Shanghai Eye Disease Prevention and Control Center. Now retired, she began working as a volunteer in Xinjiang for the eighth time last month as part of a team that includes 20 other elderly experts.
The average age of the volunteers is 64, and they are assigned to different counties in Kashgar and Karamay. In Karamay last year, four experts treated 1,925 patients and trained 370 local staff.
Liu said that every time she visits Xinjiang, it feels like home, and she has made many friends among local doctors and patients. This time she is working in Zepu county, Kashgar, treating complicated diseases, passing on her experience and knowledge and giving lectures to local doctors in major hospitals, villages and nursing homes.
In addition to the retired experts from Shanghai, many doctors who are still working are also lending a helping hand in Xinjiang.
Wu Rui, a doctor at the Third Hospital of Peking University in Beijing, has twice volunteered to provide free medical services in Xinjiang as part of a team organized by an All-China Federation of Trade Unions.
The federation arranged for a team of 13 volunteer medical experts to offer services in Xinjiang in June, providing free treatment for more than 1,000 people in local hospitals and nomadic settlements and giving lectures to about 18,000 medical workers in villages.
Wu said their volunteer work is down-to-earth and highly efficient.
"Once, in just two days, our team of four doctors made diagnoses and gave treatments to more than 100 patients, and also gave four lectures and performed two surgeries," she said.
Wu said that when she was treating members of the Kazak ethnic group in a village last year, she found many of them were anemic because their nomadic lifestyle made them susceptible to intestinal worms, which affected their ability to absorb nutrients. The team then decided to send anthelmintic medicine to village children every year.
While treating patients in Xinjiang, Wu has also discovered many problems are caused by a lack of knowledge about healthcare. For instance, some residents feed naan, a flat-bread that is a staple food in Xinjiang, to newborns, though doing so can cause suffocation. She wrote several articles to spread knowledge about such risks.
The doctors' work has been well-received by residents, with many saying they are grateful to have famous doctors from first-tier cities treating them and saving them time and money. Once the doctors have left Xinjiang, they can continue to prescribe medicine for patients with chronic diseases.
Local hospitals are trying to set up long-term, cooperative relationships with the expert doctors' hospitals to provide services such as training programs and long-distance joint diagnoses.