Beijing travel festival lures young foreigners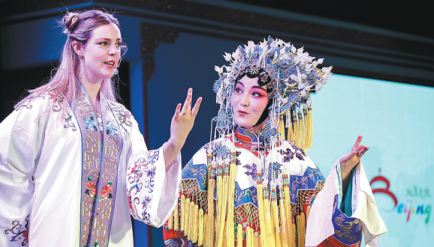 Beijing has launched three culture-and-travel programs for young visitors from overseas.
They can explore distinctive bookstores, celebrities' former residences, museums, galleries, theaters and iconic landmarks during the Beijing International Youth Tourism Festival, which opened on Friday.
The festival, hosted by the city's culture and tourism bureau, will last for three months.
It aims to enable young people from overseas to experience the capital's profound culture and urban vibrancy.
The programs will subsequently be developed into itineraries for future inbound visitors.
"Cultural input is the highlight of this year's festival," says Jia Limei, a senior official with Beijing's culture and tourism bureau.
"For example, foreigners can experience such traditional features as Peking Opera, shadow-puppet shows and drum performances."
Authorities are hoping the festival can promote traditional culture and advance exchanges between China and other countries.
"The youth community is the most vivacious. It's at the forefront of life and cultural experiences," Jia says.
"We hope they can help spread the word about our culture and tourism."
Foreign students from institutes of higher learning, employees from foreign companies' Beijing operations and inbound tourists will be invited to join the festival, she says.
Participants will be selected based on their Beijing stories shared online.
Hundreds of young foreigners from dozens of countries attended last year, Jia says.
`