Ambassador Cui signs on to Twitter
By Zhao Huanxin in Washington | China Daily Global | Updated: 2019-07-09 23:13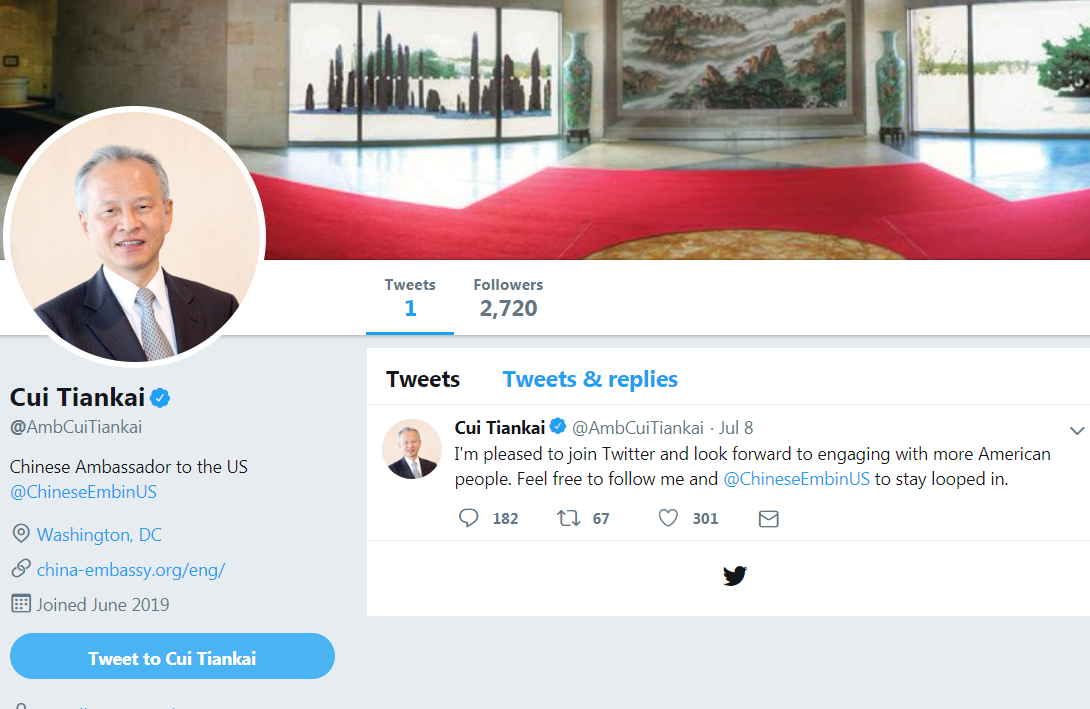 China's ambassador to the US signed on to Twitter on Monday, becoming one of the first incumbent Chinese diplomats to leverage the power of the popular social media site to reach out to more Americans.
"I'm pleased to join Twitter and look forward to engaging with more American people. Feel free to follow me (@AmbCuiTiankai) and @ChineseEmbinUS to stay looped in," top envoy Cui Tiankai said in his first tweet Monday morning.
Cui's personal account had more than 2,000 followers by early Tuesday morning. His Twitter account and the embassy's debuted on the same day.
The embassy tweeted: "As China & the US celebrate a 40-yearlong diplomatic relationship, we are pleased to join Twitter, in which we can engage in more frequent and productive dialogue with Americans. #ChinaUS40."
While a few Chinese embassies, such as those in Canada, Japan and the Philippines, have official Twitter accounts, Cui appears to be the first Chinese ambassador to create a niche on the microblogging platform.
Cui's purpose for joining Twitter for "engaging with more American people" is believed to echo his efforts in recent years to promote the role of the people in mending and retrofitting China-US relations.
The ambassador has on various occasions stressed that in the new international context, the China-US relationship has once again come to a crossroads in history, when the relations should continue to be defined by the two peoples.
Since becoming China's top envoy in Washington in 2013, Cui has traveled across the United States, debating on China-US relations and delivering China's voice at forums and venues in and beyond Washington. He has been interviewed by leading US media, such as Fox News and Bloomberg, and contributed opinion pieces to The Washington Post, USA Today and other major newspapers.
The Twitter account is expected to make the ambassador more accessible to people from all walks of life and help improve the quality of Sino-American dialogue, according to Andrew Mertha, Hyman professor and director of the China Program, School of Advanced International Studies at Johns Hopkins University.
"I think it is important for his voice to enter the conversation," Mertha said of Cui's Twitter account. "Twitter is a challenging medium because it leads to extreme views and people who follow it are often immune to persuasion (I'm not a huge fan of it!), but in skillful hands it can improve the quality of the Sino-US dialogue."
Mertha said that smart countries send their very best to represent them abroad, and Ambassador Cui understands the different political realities in both countries and is able to navigate them extremely well.
"He absolutely represents China's interests (I was part of a delegation that met with him a decade ago and he was extremely critical of US policy regarding the South China Sea — we were suitably chastised!), but he deeply understands US views as well. And his is one of the most intelligent, articulate and persuasive voices advocating for engagement, a point of view with which I strongly agree," Mertha told China Daily.
Cui's first tweet was met with mixed reactions from other Twitter users, with most welcoming his presence for "real communications" and some cautioning him against the possible dark side.
"I think it's important for you to clarify lots of rumors and bias in Twitter about China," one user commented.