China out to send message at worlds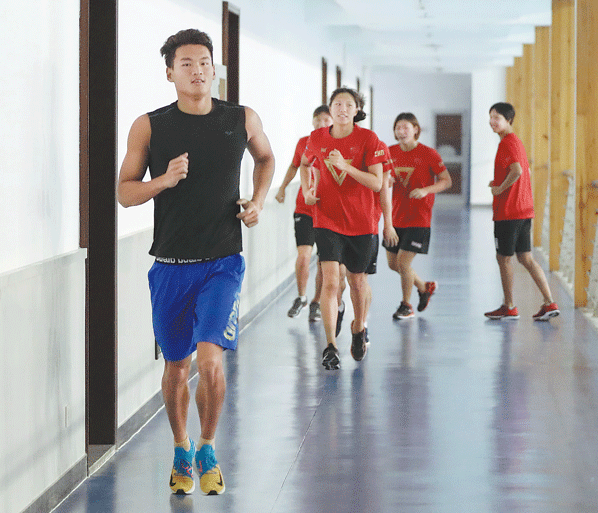 Title contenders head roster for upcoming meet in South Korea
Preparing for Gwangju but aimed at Tokyo, China's national swimming team is embracing the world championships in South Korea as a final test for a fruitful 2020 Olympics.
The nation's elite swimmers made their podium ambition at the FINA World Championships loud and clear on Monday, with a 43-member roster announced for the swimming segment at the biannual competition set for July 21-28 in Gwangju, South Korea.
Led by triple Olympic gold medalist Sun Yang, reigning backstroke world champion Xu Jiayu and female backstroke sprinter Fu Yuanhui, Team China is determined to reap a golden harvest against the world's best and get a major morale boost heading into next summer's Tokyo Olympics.
Sun, now training in Hong Kong on an individual program, remains the brightest hope for China, having clocked the world's fastest time in 400m freestyle (3:42.75) at the FINA Champions Swim Series in Guangzhou in April.
The Olympic champion in 200m (2016 Rio), 400m and 1,500m (2012 London) freestyle has signed up to compete in four individual events (200-1,500m) plus the team relays in Gwangju in an effort to cement his status at his seventh world championships.
Already one of the most dominant freestylers of all time, Sun continues to work on his technical refinement, particularly starts, turns and kicking. His improvements on those tiny but critical details were evident in a superb third leg during China's bronze medal performance in the 4x200m relay at last year's FINA short-course worlds in Hangzhou.
"I think my recent performances have made me believe I can achieve some good results at the world championships and the Olympics," said the 27-year-old Sun, who has won nine long-course world titles since his international debut in 2009.
Joining Sun in the Gwangju medal hunt is backstroke specialist Xu, who appeared confident of defending his 100m title during a break at the team's open training session on Monday.
"I've followed my opponents 'preparations a little bit, but it's up to whether I can bring the best out of myself for retaining the gold medal," said Xu, who became China's first male world champion in backstroke after winning the 100m in Budapest in 2017.
The 23-year-old shrugged off suggestions of pressure in Gwangju and is approaching the meet as just a major tune-up for his third Olympics in Tokyo.
"Every race is just a step forward in pursuing my dream to finish higher on the podium in Tokyo. I am confident of competing for gold in Gwangju but it won't affect my resolve to finish better at the Olympics either way," said Xu, who was beaten to silver by American star Ryan Murphy in the 100m at the 2016 Rio Olympics.
Xu's world-leading mark of 52.27 this year, achieved at the national championships in March, has perhaps earned him a psychological edge in Gwangju over three-time Olympic champ Murphy and Australia's 2015 world champion Mitch Larkin.
Another men's title contender to watch is individual medley star Wang Shun, who has emerged as a legitimate challenger in the 200 IM to this year's world leader Larkin, Britain's Duncan Scott and Japan's former world champion Daiya Seto.
Wang, who just returned from a six-week training program in the United States, is drawing confidence from his improvements on speed and strength to fight for his first major long-course title.
"I've settled for bronze three times in a row (2015 and 2017 worlds and 2016 Olympics). It's time for me to change the color of the medal and I know I can do it," said the 25-year-old, who won his first 200 IM world title at the short-course worlds last December.
Spearheading the women's surge for China at the worlds are backstroke diva Fu, 50m butterfly Asian record holder Liu Xiang and double Olympic gold medalist Ye Shiwen.
Fu, who shot to stardom by bringing home gold in the 50m at the 2015 long-course worlds, has regained her pace after a long slump compounded by a shoulder injury and a lack of confidence.
The 23-year-old, who became a celebrity in China following her emotional post-final interview at the Rio Olympics, said she's come back from the brink of retirement to regain her form in the 50 and 100m events in South Korea.
"I feel like I am almost as physically and mentally prepared as I was in 2015. I've experienced the worst and I am ready to bounce back in Gwangju," said Fu, who tied for bronze at the 100m in Rio.
Liu, who finished sixth in the 50 butterfly at the 2017 worlds, expects to build her confidence with a better performance in Gwangju, while former 200 and 400 IM Olympic champion Ye (2012 London) looks set to regain her form as a medal contender in the 200m breaststroke.