Shanghai tourney netting major gains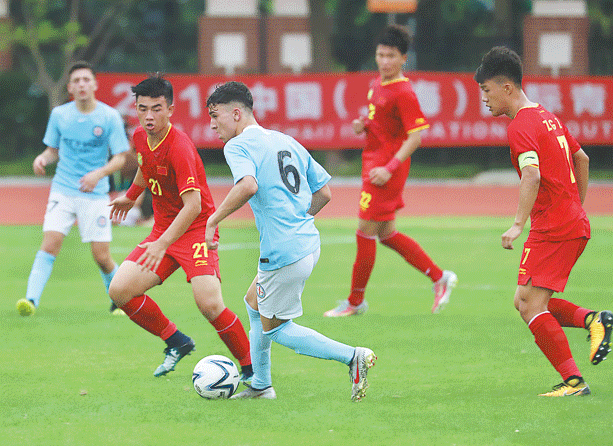 The China (Shanghai) International Youth Football Invitational kicked off on Monday as the city steps up its efforts to promote the local soccer scene.
Launched in 2015 as part of China's bid to become a powerhouse in the sport by 2050, the annual tournament features 16 teams from seven countries and regions, with a total of 32 matches being staged in the Putuo, Minhang, Qingpu and Yangpu districts until July 14.
The first match between China High School National Team and Melbourne City College of Football ended in a draw.
"It is really a good opportunity to play in a different country," said Melbourne player Jude Hardy, 16.
"I prepared for the match for roughly one month in Australia. It is my first time being overseas, and Shanghai is different from Australia. I really enjoy being here with so many people around us."
Luo Yiping, the representative of French club Villefranche Beaujolais, echoed that sentiment.
"More domestic and foreign teams are participating in this tournament, a sign that the event is increasing in influence. Besides bringing the world together through soccer, the tournament also helps with the development of national youth soccer," he said.
China's efforts to bolster interest and participation in the sport have been gaining pace.
According to the Ministry of Education, the goal of having 20,000 soccer-themed schools in the country by 2020 has already been met, with 20,218 in operation as of February 2018.
Shanghai, considered one of China's soccer strongholds, has more than 400 schools in regional and national competitions, and the number of registered student players in the city has surged from 4,500 to 30,000 over the past few years.
Co-hosted by the Ministry of Education, the All-China Federation of Returned Overseas Chinese and the Shanghai Municipal People's Government, the invitational is benefiting from the input of Shanghai's two Chinese Super League teams.
Reigning CSL champion Shanghai SIPG is now one of the organizers of the tournament while Shanghai Shenhua is also participating.
"The main goal of the tournament is to promote the overall soccer atmosphere in Shanghai and let the world know our city pays attention to the training of youth soccer players," said Cheng Yaodong, SIPG's director of youth training.
"We are more involved than before, helping to popularize and improve the tournament. As a professional club, we feel it is our duty."
Cheng reckons the emphasis of youth soccer should be on participation as opposed to achievement.
"Getting more young players and providing them with professional training and resources is key," he said.
Ten youngsters have been appointed ambassadors for the tournament in a bid to encourage others to take part. More than 360 volunteers from local colleges and high schools have also been enlisted to help.
Local authorities and supervision departments inspect schools and competition venues to ensure the successful staging of matches.
Activities such as tea ceremonies, tai chi and porcelain painting help the visiting foreign players integrate and gain a better understanding of traditional Chinese culture.
Tian Yi, the representative of Melbourne City College of Football, said: "The tournament definitely helps the cultural exchange between two countries.
"Shanghai is a city of diversity. We have showed the players around the city and visited places such as Shanghai Science and Technology Museum and Shanghai Oriental Art Center to help them better understand Chinese culture. This year, numerous activities will be hosted for cultural exchanges.
"The whole world pays great attention to soccer, which also acts as a kind of international communication. We hope the Youth Football Invitational can showcase Shanghai soccer's culture to the world."
Tang Xiaofan contributed to this story.