Africa upbeat on trade pact
By LUCIE MORANGI in Nairobi, Kenya | China Daily Global | Updated: 2019-07-12 09:21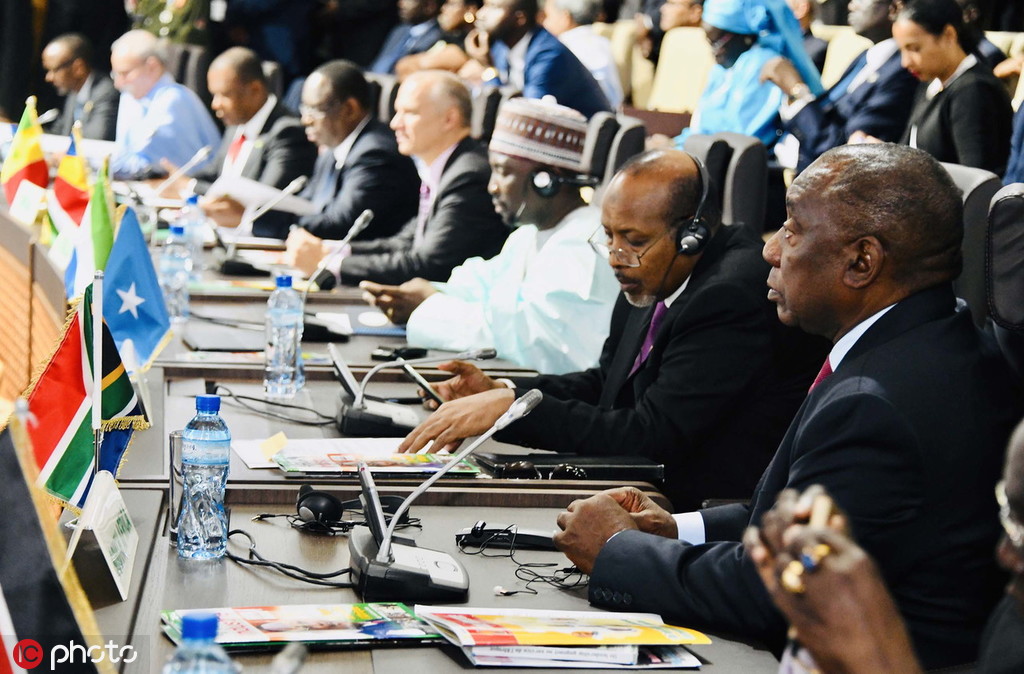 Easier travel and elimination of most tariffs expected to usher in new era of development
Abdullahi Sulaiman, the chief executive of an information technology enterprise in Nigeria's Kaduna state, said he was pleased to find out how easy it is to do business in neighboring Benin.
He traveled about four hours by road and merely had to present his passport at the border, clearing immigration in just 10 minutes.
Although he had credit cards and dollars with him, "I actually used naira (the currency of Nigeria) to settle my bills. I was pleasantly surprised," he said.
Nigeria and Benin are among the 15 member states of the Economic Community of West African States.
Now, with the newly launched African Continental Free Trade Area, the ease of doing business for Sulaiman and others will be expanded across the African continent.
The new free trade area seeks to create the largest trade zone in the world. According to the United Nations Economic Commission for Africa, the area is expected to increase intra-African trade by 52 percent by the year 2022 and remove tariffs on 90 percent of goods.
In launching the operational phase of the AfCFTA, leaders at the summit of Heads of State and Government of the African Union agreed on Sunday in Niamey, Niger, to accelerate continental integration by removing most tariffs and other barriers to ease movement of products, services and capital.
The zone's goals, in addition to increasing intra-Africa trade, are to grow local businesses, boost industrialization and create sustainable jobs.
Sulaiman said he is upbeat about the prospects for the new zone and looks forward to traveling visa-free to southern or eastern Africa to invest in IT sectors that use 4G network technology.
"With strong political will, this will happen. Africans are asking for it, and the zone will be an effective tool to fight inequality and poverty," he said.
In addition to using a single passport, entrepreneurs will be able to cross borders with ease and pay low tariffs or none at all on their goods. Their products can thereby enter new markets at competitively low prices.
Sulaiman hopes the pact will usher in a new era of development. He said it is difficult to ship goods from Lagos, Nigeria, to Cotonou, Benin, despite their proximity. Although the two port cities are barely an hour's flight apart, high tariffs have hampered business between the two countries.
Currently, goods crossing borders in the Economic Community of West African States face tariffs of up to 5.6 percent.
This is higher than the 3.8 percent applied in the Southern African Development Community, 2.6 percent in the Arab Maghreb Union in North Africa, 1.89 percent in the Common Market for Eastern and Southern Africa, and zero tariffs in the East African Community, according to the UN Conference on Trade and Development.
An infrastructure deficit has also stymied intra-Africa trade. The African Development Bank estimates that the continent's infrastructure needs amount to $130 billion to $170 billion a year, with a financing gap in the range of $68 billion to $108 billion.
In addition, an energy deficit has hampered Africa's industrial takeoff. Nigeria, the largest economy on the continent with a population of over 200 million, generates approximately 4,000 to 5,000 megawatts of power. On the other hand, Africa's second-largest economy, South Africa, generates about 51,000 MW for a population of around 58 million.
Despite the enthusiasm to have the new trade zone up and running, governments have a one-year transition period before the start of trading under the new pact, said Stephen Karingi, the director of regional integration, infrastructure and trade division at the UN Economic Commission for Africa.
"There are some important principles to be observed, such as double qualification and anti-concentration, to ensure commercial significance of the offers. In the meantime, in this transition phase… no state party can raise tariffs against another party. What we have now will be the starting point for the cuts," said Karingi.
Economists have mixed views on how prepared governments are for the transition. But they agree that the zone itself will not catapult Africa to new economic prosperity.
Stronger economies with relatively strong currencies, infrastructure and stable economies, as well as competitive advantages, will be the first winners, said Robert Kagiri, a consultant based in Nairobi. These include countries like Nigeria, South Africa, Rwanda and Kenya, which have vibrant business communities and fairly liberal trade environments, he said.
"They are most likely to gain first-mover advantages compared to their more protectionist and uncompetitive counterparts," Kagiri said.
A robust digital sector is expected to accelerate intra-Africa trade and make the continent globally competitive, especially in Afrocentric products and services including tourism.
The trade agreement will increase Africa's global agriculture exports by 2.8 percent, with estimated revenue of $17.6 billion by 2022, according to the Africa Policy Institute.