Overtourism takes toll on world's cities
By BO LEUNG in London | China Daily Global | Updated: 2019-07-12 09:25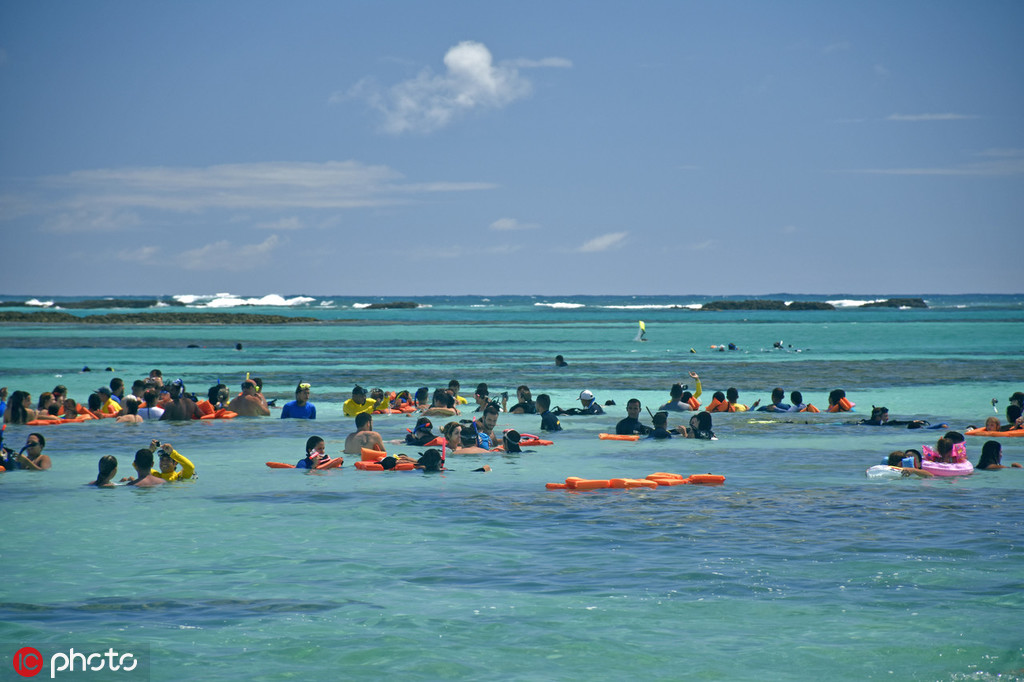 1.4 billion international travelers made overseas trips during 2018
The phenomenon of overtourism in recent years has led to some European cities struggling to cope as streets in popular destinations become saturated with tourists, affecting local residents and putting a strain on local ecosystems and infrastructure.
According to the World Travel and Tourism Council, 1.4 billion international travelers made overseas trips in 2018, of whom 45 percent visited cities. International arrivals to the 300 largest city travel destinations accounted for more than half a billion trips last year.
The travel and tourism sector contributes 10.4 percent to global GDP, and was responsible for creating one in five new jobs over the last five years, said the WTTC.
As tourism continues to grow, so do challenges. A new report from the WTTC and Jones Lang LaSalle, a real estate company, looks at the preparedness of 50 cities for future travel and tourism. Its aim is to "help city governments and tourism bodies better understand how well cities are positioned for future growth, while identifying gaps and opportunities that should be considered in future tourism strategy planning", says the report, titled "Destination 2030: Global Cities 'Readiness for Tourism Growth".
The report groups the cities into five categories: dawning developers: cities with a slower tourism growth and lower visitor concentration; emerging performers: places with an emerging tourism infrastructure; balanced dynamics: cities with an established urban readiness and tourism infrastructure, but which have not yet seen many overt signs of tourism; mature performers: destinations with established tourism infrastructure; and managing momentum: destinations with established urban readiness and tourism infrastructure, and high growth momentum.
Destinations in the last category include European cities such as Amsterdam and Barcelona, which, in recent years, have seen high tourism growth momentum, but at the same time have either experienced tourism pressures, according to the report.
The mature performers include cities such as Dublin, Lisbon, London, Madrid and Seville, the report said, adding that visitor volumes and activity are testing cities' readiness for additional growth.
Gloria Guevara, president and CEO of WTTC, said, "Tourism authorities in many major cities around the world are working incredibly hard to prepare for the future. However, for a city to truly thrive and for travel and tourism to develop in a sustainable manner, city planning authorities, developers, investors, legislators and community groups need to understand how prepared the city is for future expected growth in tourism and the resulting challenges and opportunities it may face." Experts say overtourism isn't new, but the backlash against tourism from local residents has thrown the issue into the spotlight.
Anti-tourism sentiment and overcrowding in cities such as Barcelona in Spain reached boiling point in 2017, with reports stating that some visitors had eggs thrown at them. Demonstrators held up placards reading, "This isn't tourism, it's an invasion" and took to the streets in protest.
In the past decade, the rise of the middle class, particularly those from China and India, provided many with enough disposable incomes to support domestic and international travel.
"When it is cheaper to fly from London to international cities than it is to catch the train from London to Bournemouth, you have a serious travel cost imbalance," John Fletcher, vice-chancellor of research and innovation at Bournemouth University, told China Daily.
Some popular destinations are taking action to implement measures to manage tourism levels in the future.
The UK government announced the first tourism sector deal that will prepare Britain for an extra nine million visitors per year by 2025.
The deal will revolutionize the way data is used by the sector, through the creation of a new tourism data hub. The hub will collate regularly updated data showing the latest trends and spends, allowing businesses to better target overseas visitors.
There are plans to build more than 130,000 new hotel rooms across the UK, with 75 percent being built outside of London.
Patricia Yates, director of Visit-Britain, the UK's official tourism body, said: "We know there are destinations that would welcome more visitors and we want people to discover more, travel further and stay longer, also encouraging tourism across the shoulder seasons and throughout the year.
"Our global campaign 'Find Your GREAT Britain, I Travel For'is all about shining the spotlight on unexplored and undiscovered destinations and new experiences to boost tourism across the UK, including London, alongside our iconic landmarks."
Authorities in Paris, as reported by state-owned television network France24, announced on July 2 plans to ban tourist buses from the city center to ease the disruption mass tourism has caused in residents' lives.
Emmanuel Gregoire, the deputy mayor of Paris, told local media that while Paris has not reached the stage of crowding that has hit Barcelona, Spain, and Venice, Italy, Parisians are wary of overcrowding.