Von der Leyen courts MEPs
By Chen Weihua in Brussels | China Daily | Updated: 2019-07-12 09:36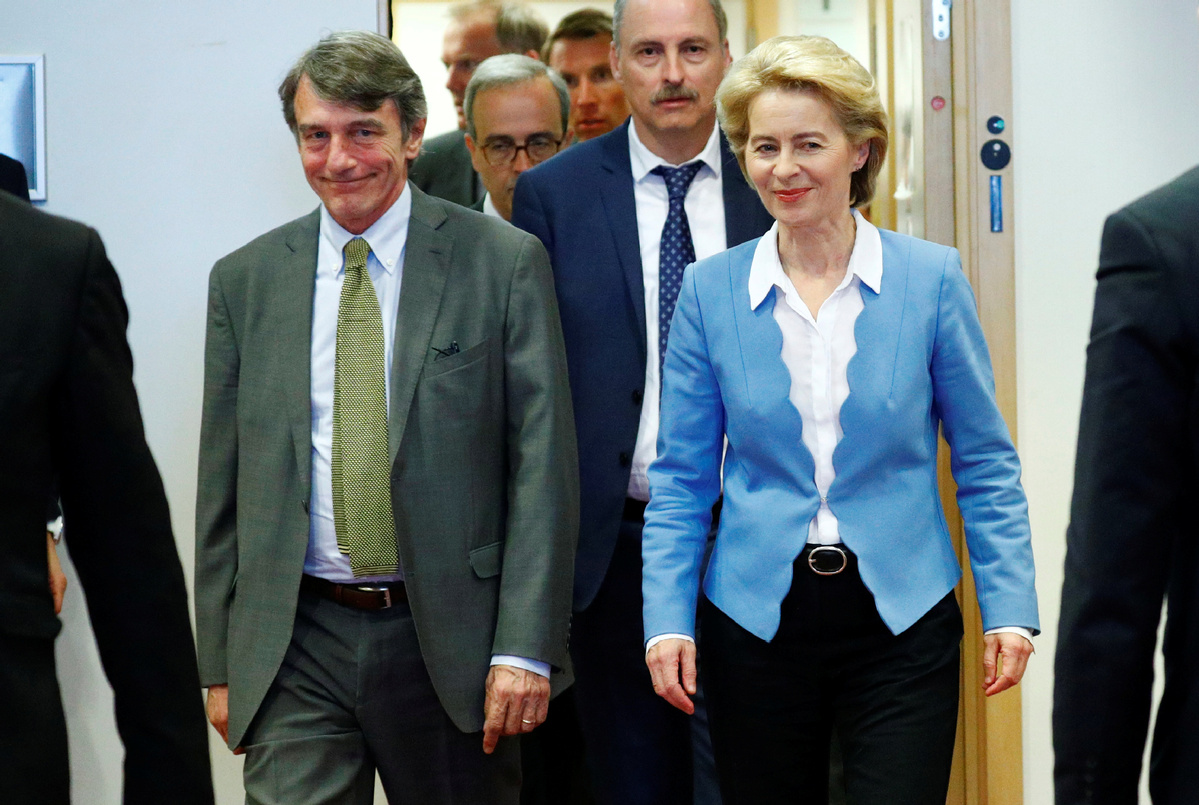 German Defense Minister Ursula von der Leyen, nominated to be the next president of the European Commission, tried hard on Wednesday to win support from members of the European Parliament who will vote on her confirmation next week.
Von der Leyen must win an absolute majority from the MEPs in order to replace outgoing Jean-Claude Juncker. In the current parliament of only 748 members, she will only need to secure 375 votes.
The 60-year-old von der Leyen, who belongs to the European People's Party, or EPP, the largest political group in the parliament, was bombarded with questions about climate change, Brexit, rule of law and reform of EU's institutional structures when she met with MEPs from the Socialists and Democrats, the Greens and Renew Europe, known as the Alliance of Liberals and Democrats for Europe until a month ago.
Switching between English, French and German, von der Leyen told the MEPs that she will support 50 percent greenhouse gas emission cuts by 2030 and a 2050 net-zero emissions target for the EU. "I want Europe to be the first continent that is climate neutral," she said.
"I believe it is possible to reconcile climate consciousness and strong prosperous economy," she told reporters. The Greens has demanded a 55 percent cut.
Von der Leyen called for more integration in security and defense to live up to the promise of a European Defense Union. "As European, we have to become more assertive, more engaged in our neighborhood," she said.
On EU-Russia relations, von der Leyen said: "The Kremlin does not forgive weakness. Out of a position of strength, and we built it in the past years, we can always go into dialogue."
She did not talk about China on Wednesday. In her capacity as German defense minister, she had said that Europe on the whole is paying too little attention to China, although "China is attacking economically", according to German public broadcaster DW.
Britain's departure from the EU, now set for Oct 31, will be the major challenge facing von der Leyen and other new EU leaders. She signaled that she won't reopen Brexit talks with the next British prime minister. "I think it's a good deal, but it is your responsibility and your noble task to sort this out," she told a British MEP.
Von der Leyen also said the "precious" Irish backstop must be defended, referring to the agreement between EU and Britain that there should be no new physical checks or infrastructure at the frontier whatever happens as a result of Brexit.
While von der Leyen's tone with other parties was relatively conciliatory on Wednesday, members of the Greens/EFA bloc said in statement afterward they would vote against her candidacy next week.
Philippe Lamberts, co-president of the Greens/EFA, said that the voters deserve a democratic and transparent process when it comes to the choice of commission president. "The lead candidate process has not been respected which is a betrayal of the European electorate," he said, reflecting a frustration that has been expressed by many MEPs.
"We did not have enough answers so we will write down our demands and will assess her on the basis of the responses we receive," president Iratxe Garcia Perez of the Socialists and Democrats group, or S&D, said after the meeting, according to Euronews.
Dacian Ciolos, leader of Renew Europe, described the meeting as a "very good debate".