Domestically built icebreaker enters service
By Zhao Lei in Shanghai | China Daily | Updated: 2019-07-12 09:43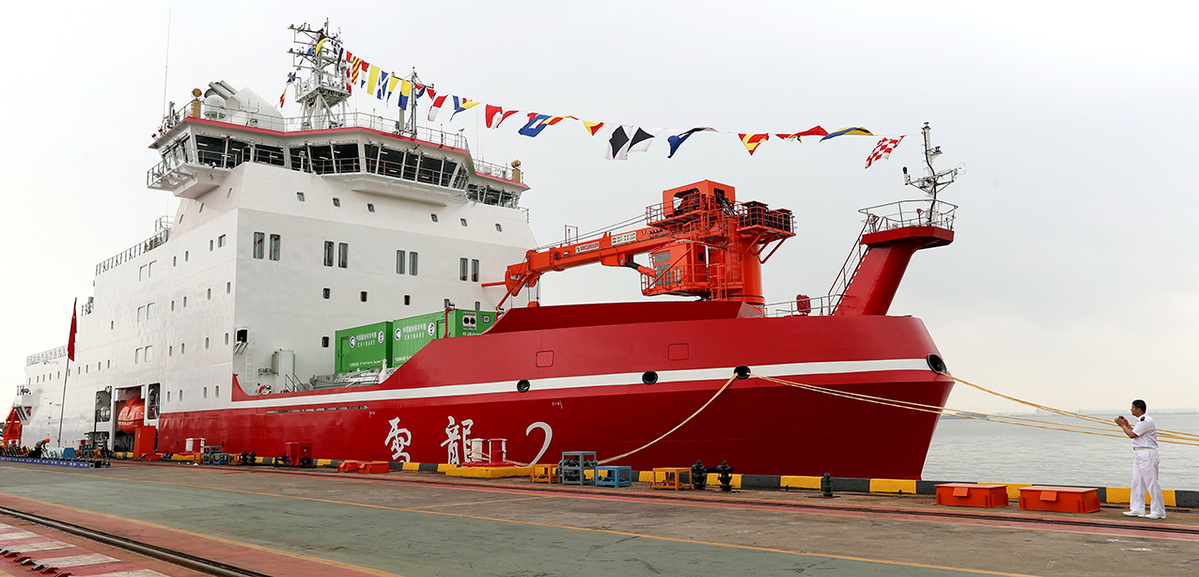 Xuelong 2 to bolster China's capacity in polar research and expeditions
China's second - and the first domestically built - research icebreaker, Xuelong 2, or Snow Dragon 2, entered service in Shanghai on Thursday.
The ship was delivered to its user - the Polar Research Institute of China under the Ministry of Natural Resources - at a commissioning ceremony at Jiangnan Shipyard Group, which built the vessel.
The ministry said in a statement on Thursday that the icebreaker's service will enable China to better support its polar research and expeditions.
The Xuelong 2 project was organized by the polar research institute. The ship was jointly designed by Finland's Aker Arctic Technology in Helsinki and China's Marine Design and Research Institute in Shanghai. Its construction began at Jiangnan Shipyard Group in December 2016.
Both the Marine Design and Research Institute and Jiangnan Shipyard Group are parts of China State Shipbuilding Corp, a State-owned shipbuilding conglomerate.
Xuelong 2 is 122.5-meters long, 22.3-m wide and has a displacement of 13,996 metric tons. With a maximum speed of 15 knots, or 27.8 kilometers per hour, the icebreaker can sail up to 37,000 km in a single voyage and sustain 60-day expeditions with 90 crew members and researchers, according to China State Shipbuilding Corp.
Featuring a state-of-the-art design and advanced equipment, the icebreaker is capable of operating in any ocean around the world.
It is equipped with world-class oceanographic survey and monitoring apparatus, allowing experts to carry out research into polar regions' physical oceanography, biodiversity and atmospheric and environmental conditions, as well as conduct fishery resources surveys.
Wu Gang, chief designer of the icebreaker at the Marine Design and Research Institute, said the vessel is designed to break 1.5-m thick ice at speeds of 2 to 3 knots and can operate in temperatures as low as -30 C.
He said the vessel has good maneuverability and adheres to strict environmental protection standards. The designer also said it features user-friendly designs such as optimized cold-proof measures and sufficient storage space for fresh water.
Before the delivery of Xuelong 2, China operated a single icebreaker, Xuelong, which was designed for cargo transportation when it was built in Ukraine in 1993. Xuelong was purchased by China and converted to a polar research and resupply vessel. It has carried out dozens of scientific expeditions to the Arctic and Antarctic.
After the commissioning, researchers will test and fine-tune scientific instruments on Xuelong 2 before its first operation, the nation's 36th Antarctic expedition that has been scheduled for the coming months of this year, together with Xuelong, according to the Ministry of Natural Resources.
Qin Weijia, director of the ministry's polar expedition office, said that Xuelong 2 is one of the world's best research icebreakers, noting its service will enable Chinese scientists to extensively extend their stay in polar regions and help the country narrow its gap with polar research powers like the United States.
According to Wu, Chinese researchers have begun design work on a next-generation icebreaker that will be more advanced than Xuelong 2.
He explained that the next-generation icebreaker will be able to break ice about 3-m thick and endure temperatures as low as-45 C.
China has been paying huge attention to scientific research and peaceful development in polar regions. It has conducted 35 Antarctic expeditions and nine Arctic expeditions.
The government has also published guidelines to support research and development of advanced ships for polar scientific and resource survey operations.