Bilibili carves a niche with synchronized online interactions
By He Wei in Shanghai | China Daily | Updated: 2019-07-12 10:10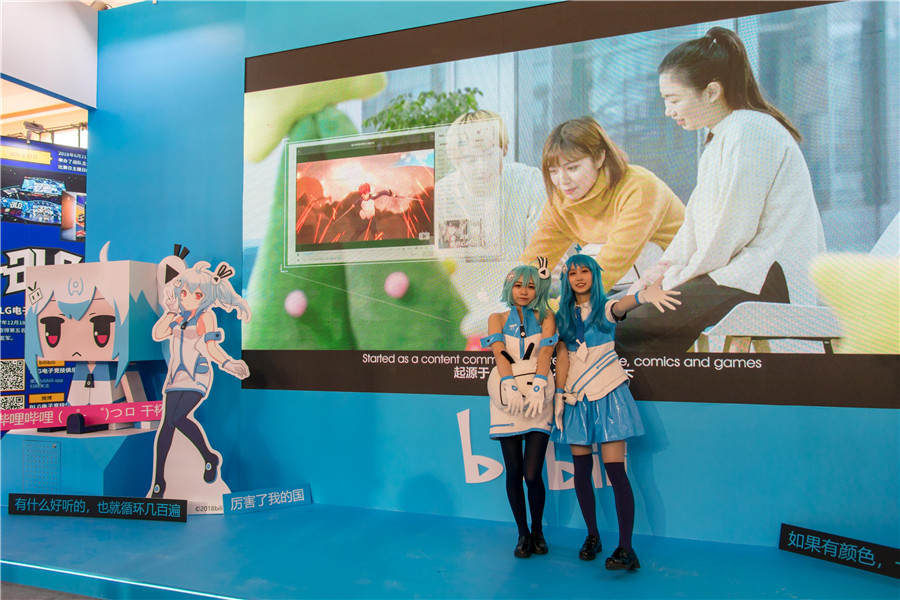 Video is the go-to-business in China's thriving internet sector. From tech giants like Alibaba and Tencent to highflying apps like Douyin and Kuaishou, industry players are sparing no effort to be part of the intense race to gain user traction.
Video site Bilibili, however, has carved out a unique niche by cultivating a vibrant online environment, based on synchronized online interactions.
At a grand gala in Shanghai celebrating Bilibili's 10th birthday on June 26, Chief Executive Officer Chen Rui made a rare appearance and shared the latest strategy of the site, which is deemed "ground zero" for much of China's post-1990 and post-1995 generations' internet culture.
Starting out as an obscure online spot for animation, comics and games, Bilibili has turned into a Nasdaq-listed media conglomerate encompassing all video themes one can imagine. Today it is also on the radar for nurturing, producing and distributing movies, TV series and comics.
Bilibili's 100 million monthly active users now spend on average 81 minutes on the site per day, playing videos for a total of 510 million times, according to Chen.
The platform is also enriched by over 730,000 original content curators who submit 2.08 million indigenous videos accounting for 89 percent of the total videos being played.
But one feature that serves as a genuine differentiator is its "danmu", or "bullet comments" system. It is a loanword from Japanese animation circle, depicting a user conversation system where time-synced comments are overlaid directly on top of the video as it plays.
The comments can either be in real-time or left by previous viewers pegged to specific moments of a video. Such spontaneous interaction creates a social watching experience similar to that of sitting in a rowdy theater: during pivotal moments in a video, reactions wash over the video in a dense tidal wave, as if you are sharing your feelings instantly with your online neighbors.
"Here at Bilibili, we see the generation of over 1.4 billion danmu comments each month. It is the epitome of emotional interaction and makes Bilibili a genuine, heartwarming community," Chen said.
Another factor gluing the Bilibili users tight is setting a high threshold for membership in pursuit of cultural recognition. While anyone can watch the majority of videos on the site, only members who have passed a 100-question test regarding animation culture, the danmu etiquette and other related topics, are granted more rights such as uploading videos and prioritized comments.
"Contrary to the common practice of lowering the threshold for user acquisition, such settings ensure the bulk of participants at least understand the norms of the community, which helps the platform hold onto users and enhances their loyalty," said Ma Shicong, an internet analyst with consultancy Analysys.
Thanks to that congruence, Bilibili isn't just intriguing to comic and animation lovers, but it has serious undertakings. The platform is shaping up to be the country's top self-learning platform, with 4.2 million videos on a variety of educational topics accessed by 18.27 million avid learners.
"It is a paradise, an encyclopedia, a fenceless university, and a gas station," said Zhang Zhaozhong, a retired professor from the National Defense University of the People's Liberation Army and a rear admiral. His series of online videos populating military knowledge among youngsters has secured him some 2 million followers.
But Bilibili's ambition does not stop there. It proposed a "Made by Bilibili" plan last year, aiming to invest in high-quality content production houses to craft original content.
In the past three years, Bilibili has been involved in the investment and release of 71 Chinese-made comics, accounting for half of all homemade comics during the same period. In the latest development, it announced the launch of the animation adaptation sci-fi trilogy The Three-Body Problem, based on the namesake sci-fi novel by popular Chinese writer Liu Cixin.
They plan to coproduce the animation with two other Chinese companies - the Three-Body Universe (Shanghai) and Wuhan-based animation maker YHKT Entertainment.
Ruan Rui, CEO of YHKT Entertainment, said the animation is at the script writing stage and will be shot with 3D technologies. Ruan did not reveal whether the animation will be a series or a film.
"Animation, as an image art form, is especially suitable for presenting science fiction content. I look forward to seeing the adaptation go beyond my imagination," Liu, the author, said at the launch ceremony.