Teachers, family testify about killer's descent
By KONG WENZHENG in New York | China Daily Global | Updated: 2019-07-12 22:31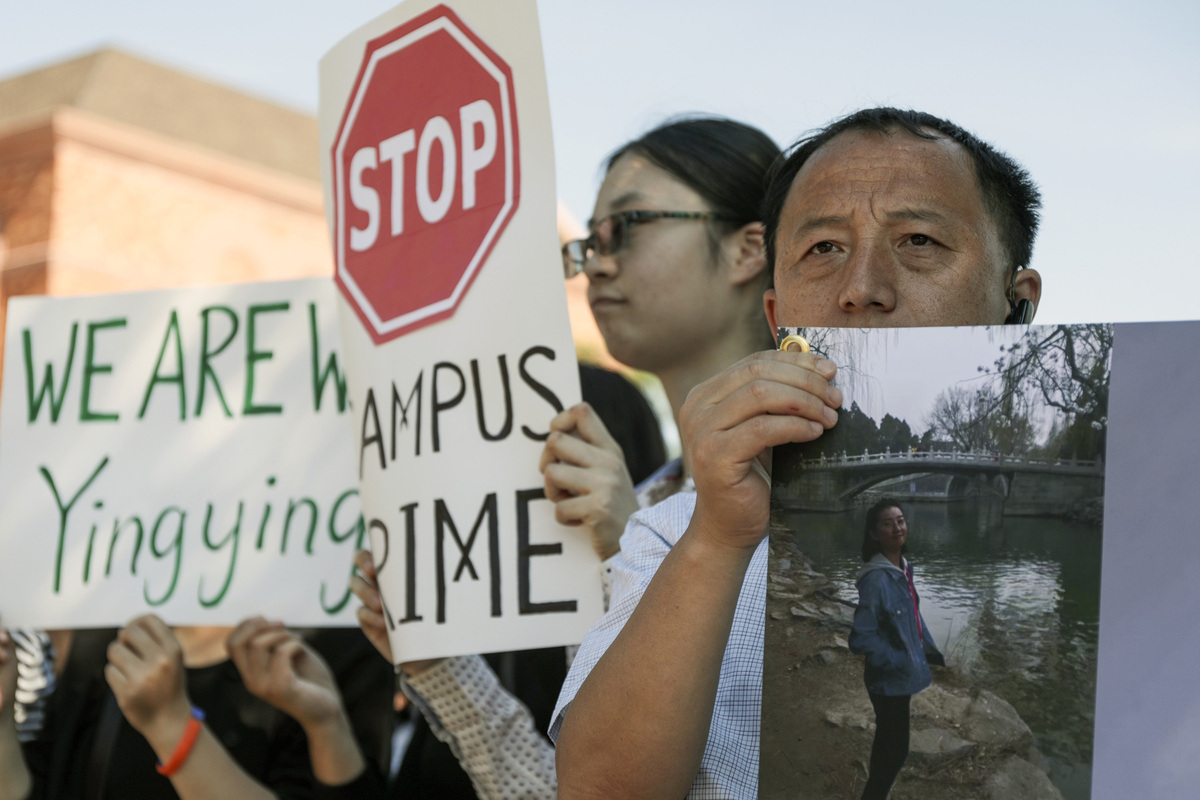 Teachers, colleagues and family members of Brendt Christensen, convicted of killing visiting Chinese scholar Zhang Yingying, continued testimony Thursday at the sentencing phase of his trial at US District Court in Peoria, Illinois, as defense attorneys sought to avert a death sentence for the former University of Illinois graduate student.
Christensen, who entered UI as a PhD candidate in physics in 2013 after graduating from the University of Wisconsin-Madison with a bachelor's degree, was motivated when he started his studies but soon ran into intermittent troubles, testified witnesses who knew him at the university on Thursday.
Christensen seemed "very enthusiastic" when he joined a research group in 2014, the group's head Nadya Mason testified, but "it became clear it wasn't working out" in the spring of 2016, according to The News-Gazette of Champaign, Illinois.
Christensen became depressed in 2014, but recovered. However, things got to the point that she told him that graduate school didn't seem to be working for him.
Christensen's grades were read to the jury by Lance Cooper — the assistant head of the university's graduate physics programs. He explained that Christensen, now 29, went from getting mostly A's and B's in the first three years to getting all F's in the fall of 2016.
In May 2016, Christensen decided to drop out of the PhD program and pursue a master's degree instead. His grades didn't get significantly better after he made the switch, and he took some non-physics classes to fulfill his master's degree requirements, qualifying for the degree in May 2017.
Throughout his time at UI, Christensen, who worked as a teaching assistant (TA), missed weekly TA meetings and failed to show up for his office hours, according to former colleagues who testified on Thursday.
Judge James Shadid did not permit testimony from a UI psychiatrist who saw Christensen nine times from early 2016 to 2017 and diagnosed him with persistent depressive disorder, citing the defense attorneys' previous decision to withdraw a mental health defense.
The News-Gazette reported that the defense made that decision to avoid having the prosecution's mental health expert question Christensen.
Christensen's mental health was brought up by his family members when they testified on Wednesday.
The family had a history of mental health issues and alcoholism, testified his father Michael Christensen and uncle Mark Christensen. His mother, uncle, and grandfather were all alcoholics, and several family members had shown suicide intentions, according to testimony.
Family members' testimony portrayed a rough childhood for Christensen and implied he might be suffering from mental health issues.
Christensen had night terrors and would walk in his sleep, according to his father and a childhood friend. He was nonetheless described as a gentle, bright and polite child by the family, friends and a childhood teacher.
"The young man I knew was brought up well, had his head on straight. He had passion," said his third-grade teacher Jeanette Handrich. "I just couldn't understand what had happened."
His father apologized to Zhang's family, saying, while crying, "I'm sorry my son was the cause of their pain." Christensen also was seen crying as his father spoke, The News-Gazette reported.
He said he would support his son if he ends up being sentenced to life in prison, but said it was hard to think of him being executed by a lethal injection.
"A death sentence I could handle, but not the actual death," said Christensen, who has attended the entire trial. "I'm his parent. I had to be here. I love him. Nothing's going to stop that. I have no choice."
Christensen's defense team said it hopes to rest its case Monday or Tuesday, according to The News-Gazette, with Christensen's ex-wife, mother and sister still scheduled to testify.