Fed chairman, in DC, doesn't deflate hopes for rate cut
By SCOTT REEVES in New York | China Daily Global | Updated: 2019-07-12 22:32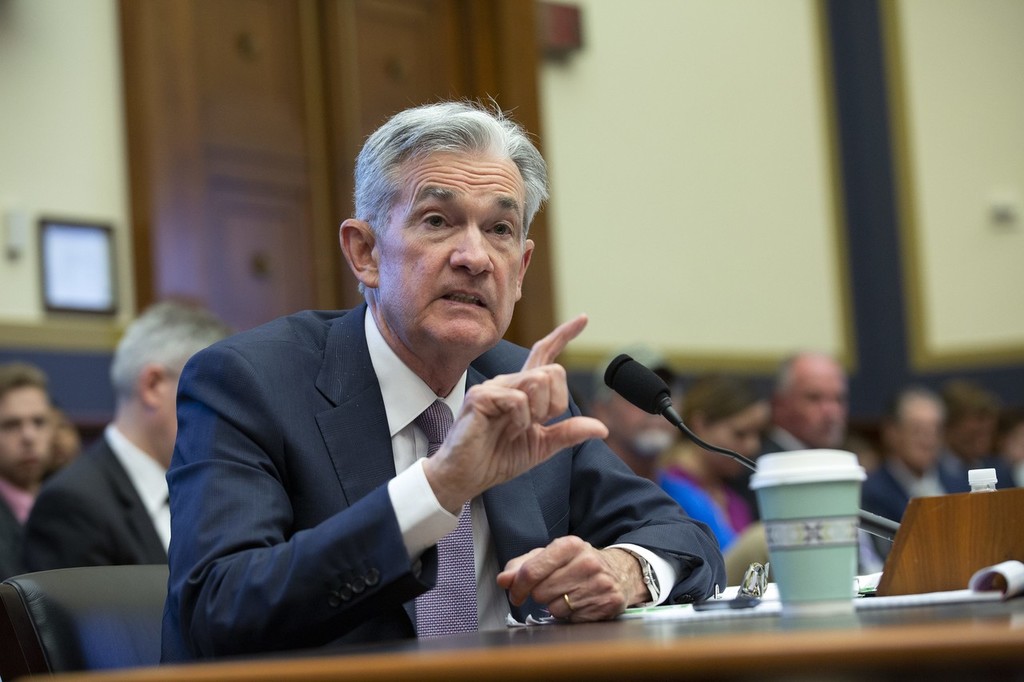 The Federal Reserve could cut interest rates later this month in an effort to offset slowing global growth and uncertainty created by the ongoing US-China trade disagreement, Fed Chairman Jerome Powell said Thursday.
Testifying before the Senate Banking Committee in Washington, Powell again stated the Fed's intention to "act as appropriate to sustain the expansion" — a statement many investors see as an indication of a rate cut ahead.
"The bottom line is the economy is in a very good place, and we want to use our tools to keep it there," Powell said, often repeating points he made Wednesday before the House Financial Services Committee as part of his biannual testimony to Congress.
The Dow Jones Industrial Average crossed 27,000 for the first time on Thursday. The S&P 500 touched 3,000 for the first time on Wednesday.
"Powell just blessed the rally," Seeking Alpha, a financial website, said in a report.
"You buy expectations and sell on the news," John Fitzgibbon, editor of IPO Scoop, told China Daily. "The IPO market responds to the broad market and the indication of a rate cut is already goosing the market."
Many expect the Federal Reserve to cut interest rates by a quarter-point when it meets July 30-31. US President Donald Trump says the current benchmark rate of 2.25 to 2.50 percent constrains the economy and has urged the Fed to cut rates. However, the Federal Reserve Bank is independent and its actions are not subject to review by the president or anyone else.
Powell did not explicitly state the Fed will cut rates, but laid out the case for such action. He said consumer spending and employment are strong, but the economy is slowing in Asia and Europe, and that could mean trouble ahead for the US. However, other members of the Federal Reserve are skeptical about the need to cut rates now.
Richmond Federal Reserve Bank President Thomas Barkin said a small cut is unlikely to affect business decisions, while a large cut risks stoking inflation.
"I don't see the current levels of inflation or inflation expectations as a trigger for additional accommodation," Barkin said at the Rocky Mountain Economic Summit in Idaho. "There isn't much case for stepping on the brakes. With employment so low and consumer spending so healthy, it's equally hard to make the case for stepping on the gas."
On Tuesday, The Wall Street Journal reported that Patrick Harker, president of the Federal Reserve Bank of Philadelphia, didn't see an immediate need for a rate cut, but said he would consider one if the economy declined sharply.
Inflation has remained below the Fed's 2 percent target and employment is strong. If inflation remains low for too long, some economists fear, consumers and investors may expect inflation to decline, leading to falling interest rates and limiting the Fed's ability to support the economy in a future downturn.
Powell said the nation's central bank may have room to reduce rates. In the past, strong employment has often pushed inflation higher, but Powell said the link "has become weaker and weaker and weaker over time".
Unemployment is at a record low in the US, and the June jobs report was strong, as employers continue to hire new workers. Powell didn't comment on Trump's economic policies, but said uncertainty about trade has increased since May, when the president raised tariffs on imports from China.
Questions from senators often veered into topics unrelated to monetary policy, including global warming, illegal immigration, housing prices, crop prices and cryptocurrency.
Both Democrats and Republicans offered their support for the Fed remaining free of political pressure.
Senator Bob Menendez, a Democrat from New Jersey, said, "I think I speak for all my colleagues when I say that we applaud our efforts to keep the Federal Reserve as an independent and not political institution."
Senator Richard Shelby, a Republican from Alabama, said, "Thank you for your work to keep the Federal Reserve Reserve independent of both parties."