Japan-ROK row could hurt regional economy
By Liu Jianna | China Daily | Updated: 2019-07-20 09:29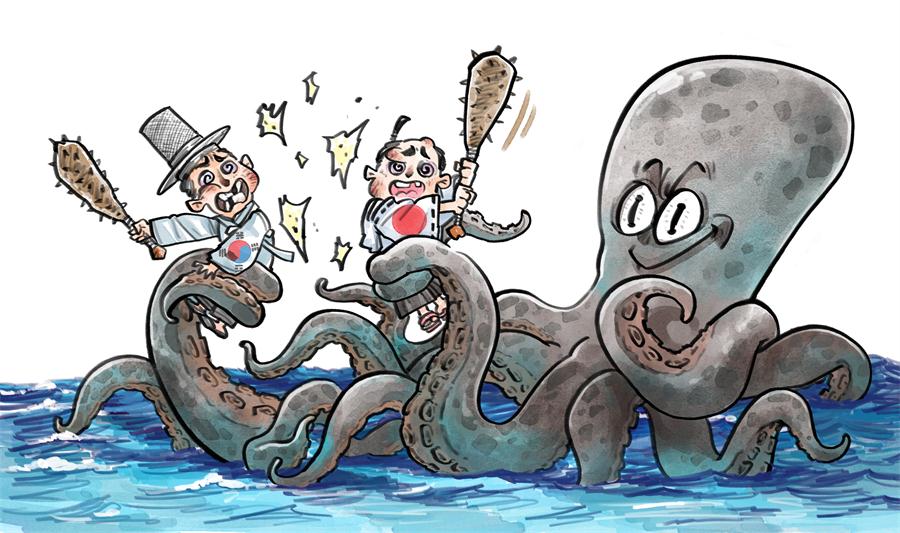 Editor's note: Japan has restricted the exports of three highly specialized products needed to make semiconductors, smartphones and computers to the Republic of Korea, which could seriously hurt ROK enterprises such as electronics giants Samsung and SK Hynix. At a meeting of the Council on Trade in Goods of the World Trade Organization last week, the ROK criticized Japan's move, saying it's unjustified. What will be the impact of the Tokyo-Seoul spat on the regional economy and stability? Two experts share their views on the issue with China Daily's Liu Jianna. Excerpts follow:
Tokyo vents anger against ROK moves
Japan has restricted the exports of the three products to the ROK mainly to vent its anger against the ROK Supreme Court's ruling last year that Japanese companies must compensate Koreans forced to work in mines and factories and as "comfort women" before and during World War II, ROK President Moon Jae-in's hard-line policy toward Tokyo, and the two countries' conflicting policies on the Korean Peninsula nuclear issue.
Besides, Japanese Prime Minister Shinzo Abe wants to portray himself as a strong leader who brooks no nonsense so his ruling Liberal Democratic Party, along with its coalition partner Komeito, can win two-thirds of the seats in the upper house election on Sunday. To some extent, Japan also intends to show the United States that it will respond aggressively to any moves it considers harmful to the country, so that the US stops coercing Japan to compromise its economic interests.
Yet in so doing Tokyo has adopted the US' unilateral strategy of using economic sanctions to resolve non-economic issues. This will harm the ROK as Japan expects, but it will also deal a blow to the regional economy and stability by hindering the progress of the China-Japan-ROK free trade agreement, especially because Seoul is mulling taking countermeasures against Tokyo, which could worsen the situation, and the US is not expected to sincerely mediate between its two allies.
Zhou Yongsheng, a professor at and deputy director of Japanese Studies Center, China Foreign Affairs University