Lu Kang heads Foreign Ministry agency in N American, Oceanian affairs
By ZHANG YUNBI | chinadaily.com.cn | Updated: 2019-07-22 11:15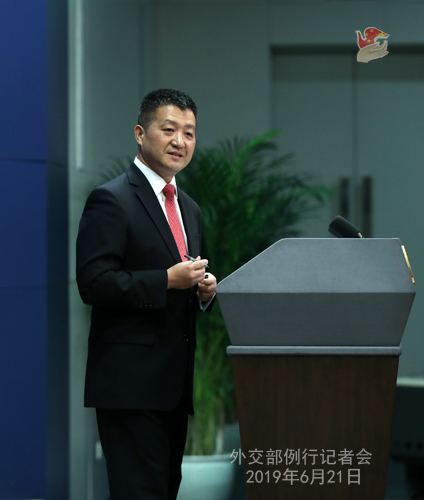 Lu Kang, after serving as chief of the Foreign Ministry's Information Department and as a ministry spokesman since 2015, took the office of director-general of the ministry's Department of North American and Oceanian Affairs, according to the ministry's updated website.
The ministry department Lu now serves handles affairs related to North American and Oceanian countries and regions, including the United States, Canada and Australia.
Lu undertook his new role at a time the relationship between Beijing and Washington has been strained by economic and trade tensions.
The region's affairs, particular those involving the US, are not new to Lu, as he worked as a deputy head of the regional department in 2010-2012.
His knowledge and work background with the US were further enhanced when he was a minister at the Chinese Embassy in the United States from 2012-2015 – the last stop before he led the information department and spoke to media on a regular basis in 2015.
Born in 1968 in East China's Jiangsu province, Lu started his diplomatic career with the first few of his posts, all part of the Foreign Ministry's agencies focused on international organizations and conferences.
He served as an attaché, then a third Secretaryat China's Permanent Mission to the United Nations from 1996-1999.
Lu started serving the ministry's Department of Arms Control and Disarmament in 2001 before taking the role of counselor at the Chinese Embassy in Ireland in 2006-2008.
The diplomat obtained a master's degree in public policy after his study at the National University of Singapore in 2000-2001.
As the ministry's top press officials, Lu Kang, spokeswoman Hua Chunying and spokesman Geng Shuang greeted media workers at the ministry's daily news conference in past few years.
Bidding farewell to media reporters at the end of his press conference on Thursday, Lu said he is ready to "continue this kind of communication" with the journalists in his new post.