Top pick Wang says he's prepared to wait his turn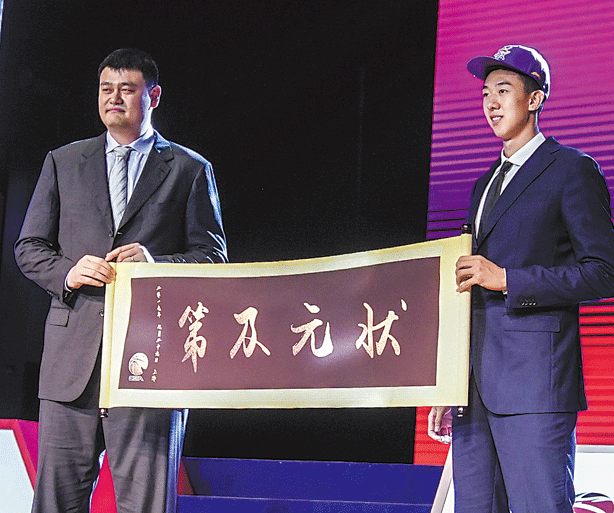 As the top overall pick in Monday's CBA Draft, college hoops star Wang Shaojie has realistic ambitions for his rookie season as a professional.
Unlike in the NBA, where first-round draft picks are under enormous pressure to shine right away, China's top pro circuit should be easier to navigate for Wang, who was named MVP of the Chinese University Basketball Association (CUBA) final this year.
"To start off the bench or even stay there for the majority of my rookie year is something that I expect and something I've prepared for," Wang said after being selected by the Beijing Royal Fighters on Monday.
With a grand ceremony patterned after the NBA and presided over by CBA chairman Yao Ming, the draft was staged at a theater and was attended by several celebrities, including free agent Jeremy Lin, late of the NBA champion Toronto Raptors.
Wang, a versatile 6-foot-9 forward with impressive mobility and shooting touch, was compared to six-time NBA All-Star Anthony Davis of the Los Angeles Lakers throughout his collegiate career at Peking University.
"The intensity of the competition and physical confrontation in the CBA is a whole different level than in college ball," said the 23-year-old Wang, who last month led PKU to the CUBA national title over Tsinghua University, contributing 22 points and 16 rebounds in the final.
"I am fully aware of that, so I am ready to work on every aspect of my game and physical conditioning as hard as I can to earn my minutes on the court."
Royal Fighters head coach Stephon Marbury, a former NBA All-Star, said earlier this month the capital's rebuilding franchise needs a young pillar like Wang. Even before his official appointment as coach, Marbury watched the CUBA final and met with Wang.
Including Wang, six CUBA-developed players were drafted on Monday, marking an all-time high since the draft was launched in 2015. CBA teams formerly relied heavily on their own youth programs and local sports schools within the State-run system to draw new blood.
Yao, who was voted into the Naismith Basketball Hall of Fame in 2016 and took over as boss of the CBA in early 2017, said the league will continue working with the Federation of University Sports of China to make the draft a smoother pathway to the pro ranks.
"Being drafted only draws a comma in your career," Yao said in his opening speech. "How high you reach in your future career won't be determined by the number you were drafted today.
"Hopefully, we will see more players with a CUBA background make their presence felt in the league in the near future."