Tackling China's paucity of pitches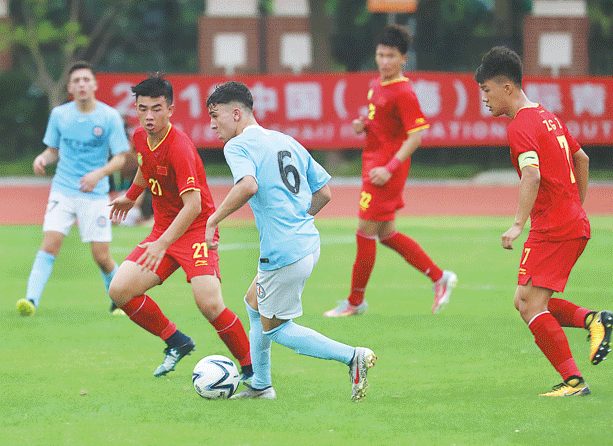 Government-subsidized construction plan hailed as crucial for growing game
Despite the massive investment in grassroots Chinese soccer in recent years, actually finding a pitch to play on can be a challenge-depending on where you live.
However, an ambitious new government construction plan is aimed at ending the nation's pitch paucity.
The plan was detailed in a document jointly published by the National Development and Reform Commission, the General Administration of Sport of China and the Chinese Football Association on Tuesday.
Newly constructed 11-a-side pitches will be subsidized by two million yuan ($290,600) each, while five-a-side and seven-a-side pitches will be subsidized by up to one million yuan each.
The refurbishment of existing pitches is not included in the plan, which also encourages local governments to further subsidize newly built pitches through government funding, the sports lottery and other channels.
"The new plan aims at ensuring better soccer infrastructure in China. It will provide a solid foundation to organize soccer activities and provides fresh impetus for the healthy and sustainable development of Chinese soccer," Feng Jinhu, secretary-general of the China Sports Venue Association, told National Business Daily.
"Currently, the total number of soccer pitches in our country is still not enough to meet the growing demand of people. The plan also prioritizes the building of pitches that are close to people and covers populous areas that have a high demand for quality pitches. That will greatly help residents in both rural and urban areas to embrace the sport."
Like many soccer enthusiasts around the country, Xi'an office worker Zhu Zimu is hopeful the plan will eventually take a lot of the hassle out of playing midweek matches.
"It's not easy to find a nearby soccer pitch, so it's not an easy decision to make if I want to play after work each day," he said.
"Sneaking into a campus is my quick solution for a pitch; otherwise I find it really hard to find a decent pitch for a match with my friends."
China kicked off a wide-ranging soccer reform plan in 2015, with the ultimate aim of improving the national team's performances and qualifying for the World Cup once again.
But while the sport is growing in popularity, China remains a minnow at international level and facilities still lag behind powerhouses such as Germany and France.
Chen Guoqiang, an associate professor at Shanghai University of Sport, has warned against ad-hoc investment in the sport and reckons the new subsidization plan needs to be carefully implemented to ensure its success.
"The new policy and the subsidization are big boosts for soccer's growth, which is a great start, but there is much more work to be done," said Chen.
"Different cities have different economic situations, and the conditions of the rural and urban areas are not the same. The construction of new pitches should be processed according to actual local situations.
"The construction of new pitches should consider the local soccer atmosphere, the city management capability and local people's interest in soccer. The maintenance and the operation of the new pitches are also challenges ahead. Leveling up China's soccer strength is not a task that can be done by one generation, and more effort should be made to achieve that goal."