Digital drive opens more doors to grottoes
By Alexis Hooi/Wang Linyan/Ma Jingna | China Daily | Updated: 2019-08-09 09:42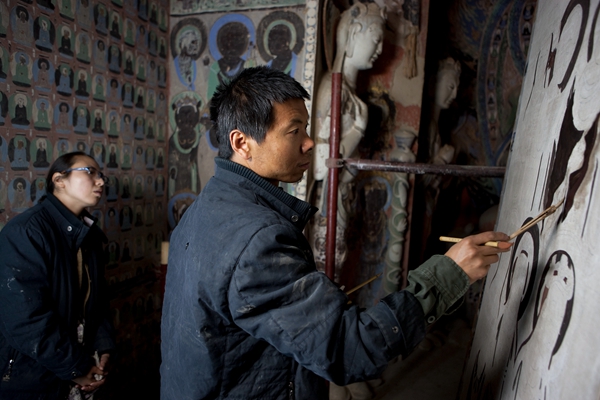 Twenty-five exhibitions and events related to the digitized murals, sculptures and other relics have been rolled out at home and abroad, from Hangzhou, Zhejiang province, and Hong Kong to Bali in Indonesia and Moscow, with virtual reality and 3D technology improving the experience, he said.
"The digitization of the relics is not meant to replace the experience of visiting Dunhuang, but more to complement it. Being where we are, it can still be difficult for many people to come here," Wu said.
Many of the foreign visitors to Dunhuang are from the United States and Japan, while Beijing and Shanghai residents account for most of the domestic tourists, he said. One of the recent exhibitions in Shijiazhuang, the capital of Hebei province, drew elderly viewers who were fascinated by the Buddhist art. They probably would have found it too physically demanding to see by traveling to the Mogao site, Wu said.
The fruits of the digitization are also seen at an exhibition complex on the outskirts of Dunhuang, where visitors set off in batches on a half-hour drive to the grottoes.
Audiences get a comprehensive introduction to the relics with the help of digital renderings of the murals, full-scale replicas of important caves and movie-like presentations that employ the imaging technology of the academy.
"We are heading in the right direction," Wu said, adding that the efforts should be expanded beyond the Mogao Caves to cover other grottoes and cultural heritage offerings.
"The idea is to tap these resources, under the right conditions, for the people to enjoy at any time and in any place."