Taking the 'smart' road to growth
Southwestern province banks on cutting-edge tech, innovation to shape its transformation
The splendid view of Yulong Snow Mountain in Lijiang, Southwest China's Yunnan province, can be seen vividly by a group of foreign tourists through a mobile application.
Named Youyunnan, which literally means traveling in Yunnan, the app leverages technology to offer tourists a livestreaming broadcast of over 1,400 scenic spots in the province.
This is nothing new to Yunnan, said its top officials, as the province has been promoting smart and modern tourism to drive high-quality economic development in the area.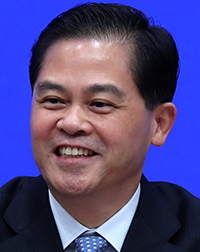 "Over the past decades, we have replaced our old growth drivers with new ones to pursue open, innovative, green development that is high-end and information-based," said Chen Hao, Party secretary of Yunnan province.
Chen said in a news briefing held by the State Council Information Office on Monday that the province has accelerated steps to upgrade the industrial structure and transform traditional industries such as tourism, tobacco and petroleum.
"We have fostered new growth drivers in eight key industries such as information, tourism and culture, bio-pharmacy, agriculture, smart logistics, new material, advanced equipment manufacturing, as well as food production," Chen added.
Official data showed its gross domestic product grew by 9.2 percent in the first half of this year. The output of the information and advanced manufacturing sectors reached hundreds of billions of yuan last year.
Yunnan province is a vital hub of the ancient Silk Road. It boasts a natural geographic advantage given its proximity to several neighboring countries. It plays an important role in promoting the Belt and Road Initiative (BRI).
"The province has evolved from an international passageway that connects China with South and Southeast Asia to a powerhouse responsible for further economic ties between the two sides," said Ruan Chengfa, governor of Yunnan province.
Ruan said the quality of economic cooperation with neighboring countries has greatly improved and the cooperation is becoming broader.
The province has established a bilateral cooperation mechanism with nine economies and has trading partners from 206 countries and regions.
"In terms of the BRI, Yunnan has geared up efforts to promote the infrastructure construction and facilitate trade and economic ties along the road," said Ruan.
The China-Laos railway, for instance, is expected to start operating in 2021. With the railway, it will only take about three hours to travel from Mohan, Yunnan province, to the Vientiane, Laos. The same route by car would take about 16 hours.
Ruan added the province will continue to open up to the outside world and deepen cooperation in key areas, including cross-border e-commerce, logistics, industrial parks, finance and tourism.