Ending confusion over a name
By Wang Kaihao | China Daily | Updated: 2019-08-13 08:13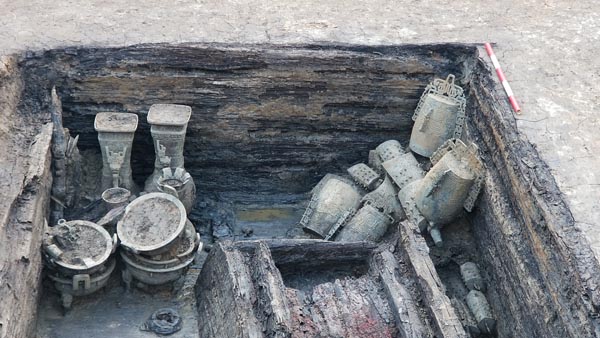 Chime bells are the "stars" of the new archaeological discovery - 19 such items were found in Mijia's tomb with long paragraphs of inscriptions.
"They tell the history of the Zeng state from Mijia's point of view," Guo says. "They are also about her marriage and how she took the responsibility of ruling the state and safeguarding it after her husband's death."
This could be another legend to compete with Fu Hao, a Shang Dynasty (c. 16th century-11th century BC) queen and wartime heroine, Guo adds.
The unearthed inscriptions also offer clues to some big mysteries in early Chinese history.
For example, some scholars doubt that the Xia Dynasty (c. 21st century-16th century BC) was China's first united central kingdom with vast lands due to the lack of supporting archaeological evidence such as written characters. And Yu the Great, or Dayu, even before Xia Dynasty was also widely considered as a legendary person rather than a real ruler.
Sun Qingwei, a professor at Peking University, says the inscriptions show that people from the Zeng state recognized Xia and Yu as real history, shedding new light on the origins of the Chinese civilization.
"We can see that Xia and Yu become a symbol indicating the identity of Chinese culture at the time of the Zeng state," Sun says.
At the Zaoshulin site, as many as 54 tombs of Zeng state rulers and three pits of funeral horses and chariots were excavated. More than 1,000 sets of cultural relics have been unearthed, according to Guo, and numerous more bronze musical instruments, ritual objects are being cleaned up for further studies.