Picking the profits from a sweet little earner
Share - WeChat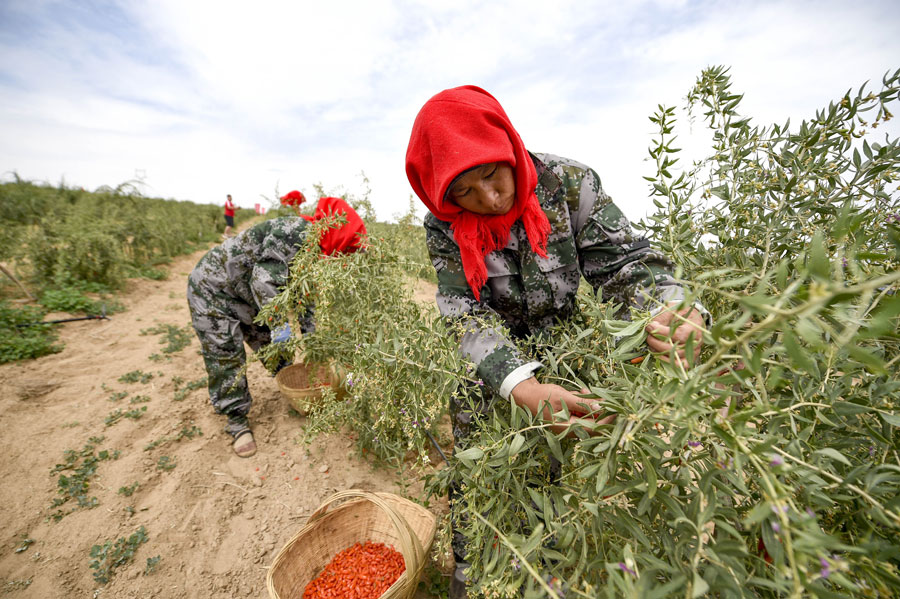 Known for their medicinal qualities, goji products are expanding into growing local and global markets
Editor's note: As the People's Republic of China prepares to celebrate its 70th anniversary on Oct 1, China Daily is featuring a series of stories on the role regions have played in the country's development and where they are today.
In the past, Wang Qiang had to work around the clock when the goji berries ripened in summer - as he and two colleagues patrolled 150 hectares of plantations in search of possible pest infestations.
"Goji berries are prone to pests, and we had to be careful to minimize the loss," Wang, a pest management technician at Ningxia Runde Group, said. "But it was impossible for us to find all the trees with pests in a garden so big."
Last summer, four cameras were installed in the goji, or wolfberry, plantations in Zhongning county, Ningxia Hui autonomous region, which eased the workload for Wang and his colleagues.
The cameras, positioned 10 meters above the ground, can monitor every tree within 100 meters. Real-time footage is shared with scientists from the Ningxia Academy of Agricultural and Forestry Sciences so they can identify signs of pests and diseases and suggest solutions.
Wang just needs to log onto an app on his mobile phone to see the results. He can also upload images of suspected plant diseases to the app and get feedback from the academy's scientists within three days.
Zhang Rong, director of the Plant Protection Institute of the academy, said the high-tech pest monitoring system has been deployed at 50 major goji farms and is used by 88 technicians.
The system has also resulted in a reduction in the use of pesticides and improved the quality of the goji berry through detection and control of pests, Zhang said.
"Goji is prone to more than 30 types of pests, including eight that can cause devastating damage," she said. "Conventionally, chemical pesticides are used to control outbreaks, resulting in a high risk of excessive pesticide residue."
In recent years, the academy has intensified efforts in the research, development and promotion of environmentally friendly biological means - including biological pesticides - to meet the demand for safer and higher quality goji products from consumers, she said.