Global slowdown fears grow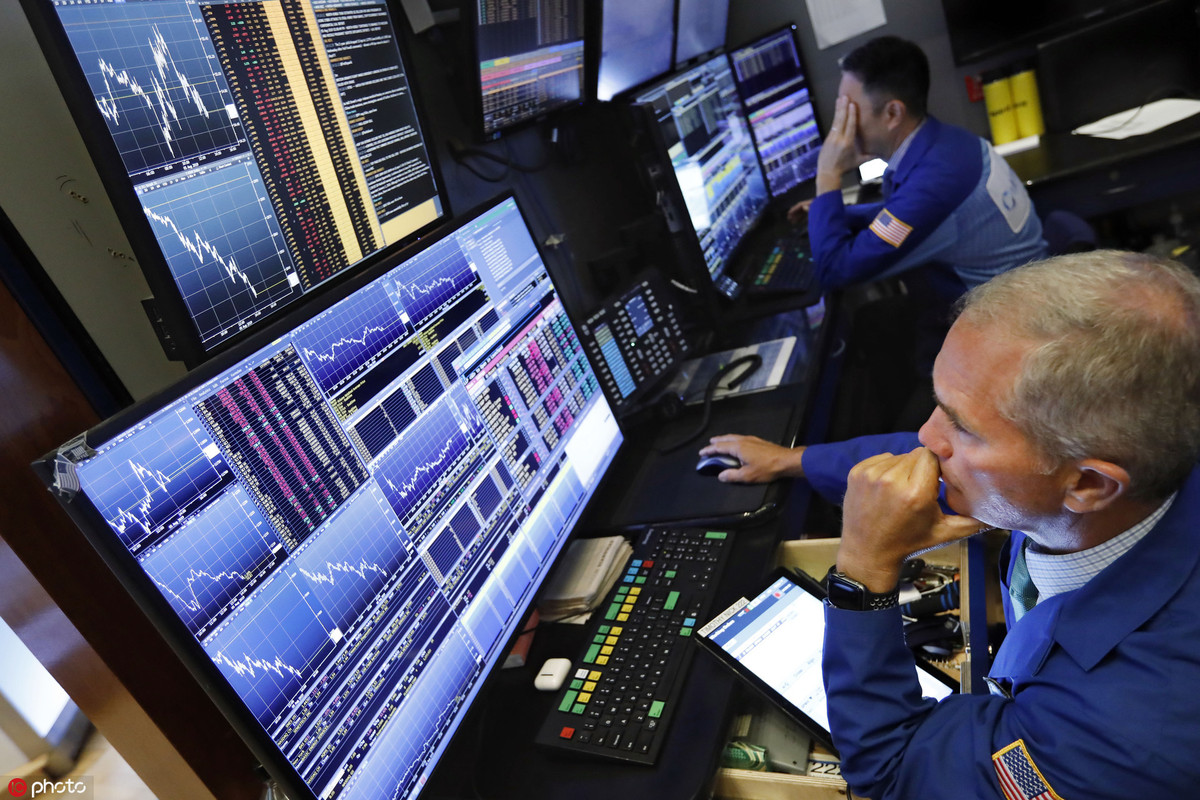 Stocks sell off as persistent US-China trade dispute spurs recession talk by analysts
US-China trade jitters and fears of a worldwide economic slowdown sparked a stock market selloff on Monday.
The continuing trade dispute with China is hitting the US economy harder than anticipated and increasing the risk of a recession next year, according to analysts and investment bank Goldman Sachs.
Companies with large investments in China, including heavy-equipment makers Caterpillar and John Deere and aircraft maker Boeing all saw their shares fall on Monday.
Analysts said they don't expect a trade deal to be reached before the 2020 presidential election.
The Dow Jones Industrial Average closed Monday at 25,896.44, down 391 points or 1.49 percent from Friday's close. The Nasdaq Composite index closed at 7,863.41, down 95.73 points, or 1.20 percent. The S&P 500 finished at 2882.70, down 35.95 points, or 1.23 percent.
"Fears that the trade war will trigger a recession are growing," Jan Hatzius, chief US economist at Goldman Sachs, said on Sunday in a research note to investors.
"I would put the chance of a recession in the second half of 2020 at about 30 percent," Gary Hufbauer, a senior fellow at the Peterson Institute for International Economics in Washington, told China Daily. "Partly because the economy has done so well for so long, partly because the trade war with China and partly because of sluggish growth in Europe and Japan. Probably the biggest warning sign of a recession ahead is weak commodity prices, particularly copper."
Copper is often viewed as a leading economic indicator because it has many applications in major sectors of the economy, including autos, home construction and electronics as well as electrical generation and transmission.
The high for copper in 2019 was $2.96 a pound. It was recently trading at $2.59. Copper is down 21.52 percent from its 2018 peak of $3.30 a pound.
Andrew Karolyi, a professor of economics and the Harold Bierman Jr distinguished professor of management at Cornell University, said a worldwide slowdown eventually will affect the US.
"The US economy and its financial markets continue to be highly integrated with those of the rest of the world," he told China Daily. "As China's, Europe's and the rest of the world's economic growth slows, eventually so must the economy of the US, regardless of how strong a run it has experienced in the past several years.
"The trade dispute between China and the US is salient since it reflects one of the key links integrating the US and the world," he said. "But it is important not to exaggerate its importance. Some of the better warning signs of a US recession ahead may be the fundamental news about slowing manufacturing growth numbers in Germany and Italy and credit tightening in China."
Goldman Sachs didn't quantify the recession risk, but analysts surveyed by The Wall Street Journal see a 33.6 probability of a recession in the next 12 months. Goldman Sachs cut its estimate of fourth-quarter growth in the US to 1.8 percent from 2 percent.
"We now estimate a peak cumulative drag on the Gross Domestic Product at 0.6 percent, including 0.2 percent from the latest escalation,'' Hatzius said. "The business sentiment effect of increased pessimism about the outlook from trade war news may lead firms to invest, hire or produce less."
Two weeks ago, US President Donald Trump threatened to impose a new 10 percent tariff on additional Chinese goods valued at $300 billion beginning Sept 1. On Aug 5, Beijing responded by halting purchases of US agricultural products.
In July, the Federal Reserve cut interest rates a quarter-point to spur growth.
The current US economic boom started in June 2009 and is now the longest cycle in US history, breaking the run of 120 months of economic growth from March 1991 to March 2001, according to the National Bureau of Economic Research.