Shanghai newlyweds' average age keeps rising
By HE QI in Shanghai | China Daily | Updated: 2019-08-14 07:26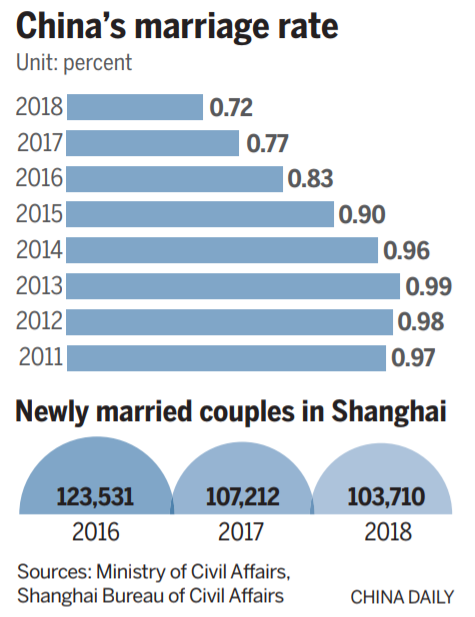 "Rising education levels, increasing workloads and stress, fierce societal competition, the influence on careers of having a baby and the high cost of marriage all contribute to the growing trend of late marriage," Xue said.
A growing number of people also choose to completely opt out of marriage.
According to the recent Shanghai report, 9.21 percent of the 4,902 single respondents indicated that they did not want to get married at all, which means nearly one in 10 said they planned to stay single.
The traditional value placed on marriage and family remains a strong influence on the young generation, however, the report said.
About 66.63 percent of respondents said that they want to be in a relationship while 62.33 percent said they felt that way because their parents want them to get married.
Shi is in the majority who still believe in marriage.
"I still want to get married when I'm ready, because having someone to support, understand and stay with me is important. After all, people are social animals," she said.
The report also said that the top three traits that respondents looked for in a partner were appearance, character and similarity of beliefs. In addition, about 21.76 percent of young people prioritized personality and temperament as opposed to traditional factors such as income, age and educational background.
"A similar educational background is important to me since it would result in something in common to talk about and a similar attitude toward life," Shi said.
Zhou Wenting contributed to this story.