New Silk Road helps wealth bloom in desert
By Cui Jia and Mao Weihua | China Daily | Updated: 2019-08-14 09:51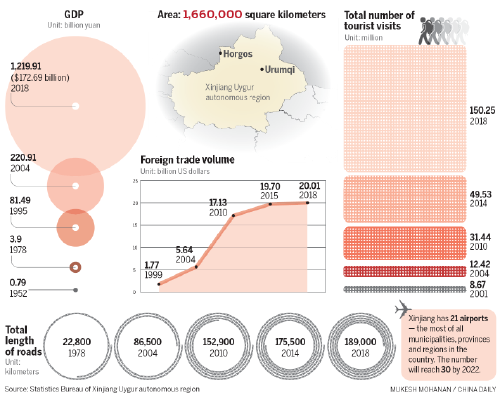 The BRI was proposed by President Xi Jinping during his visit to Kazakhstan in 2013. Yu has witnessed that blueprint become a reality.
"When I first arrived at Horgos it took at least two days for customs to clear the goods heading to Kazakhstan," he said. "Now it only takes two hours thanks to the improved customs clearance and simplified procedures brought by the initiative. Time means money in the fruit business."
When Yu founded the company in 2010, its trade volume was $30 million. Last year it reached $260 million. "The BRI is a golden opportunity for businessmen and Xinjiang," he said.
Yu also witnessed the rapid development of Horgos, especially when the State Council decided to transform it from a simple land port into a city on June 26, 2014, to better accommodate its development under the BRI to benefit the economic development of Xinjiang.
The city now has a population of 86,500.
"New roads and buildings have been constructed," Yu said. "The young city on the new Silk Road has gradually taken shape in front of my eyes. It's a surreal experience."