New Silk Road helps wealth bloom in desert
By Cui Jia and Mao Weihua | China Daily | Updated: 2019-08-14 09:51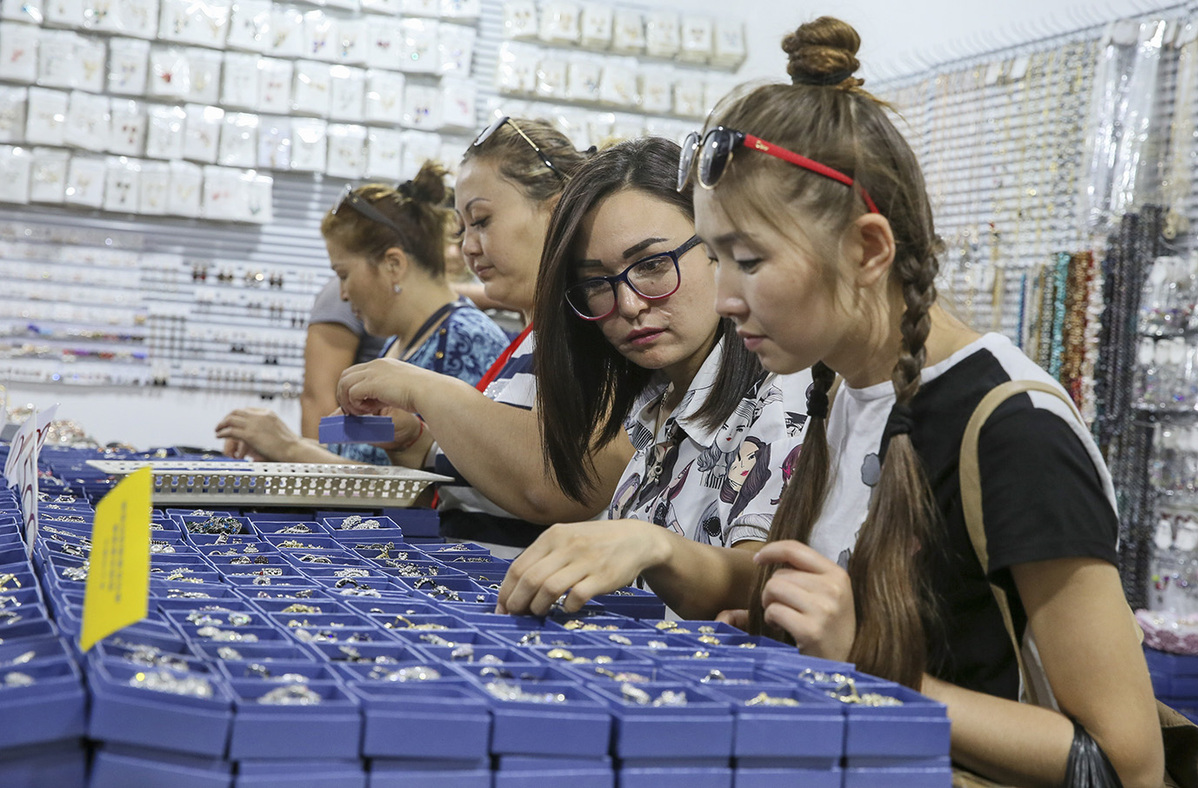 Now, more than ever
China's trade war with the United States has made people realize the trade route linking China, Central Asia and Europe is more important than ever, said Lyu Xinjing, manager of Horgos Jinhe Biotechnology.
Established in 2016, the company imports soybeans from Kazakhstan and processes them into the basic materials used in the manufacturing of antibiotics.
"We chose to come to Horgos because of its geographical location and the preferential tax policies for enterprises. More importantly, we've seen the potential of the Belt and Road Initiative and Central Asian markets," Lyu said.
On July 25, the General Administration of Customs lifted restrictions on importers and allowed soybeans sourced from all areas of Russia to enter the Chinese market.
"Strengthening agricultural cooperation with Central Asian countries and Russia will be increasingly important for China," Lyu said. "It will also bring new opportunities for businesses."
Traders and businesspeople on both sides of the board are also taking advantage of a unique free trade zone.
On a recent Tuesday morning, people formed a long line outside the security inspection area of the Horgos International Border Cooperation Center, which covers a massive 5-square-kilometer area and is filled with markets.
Straddling the China-Kazakhstan border, the center claims to be the world's only cross-border free trade zone. It allows unrestricted movement of personnel, vehicles and goods from the two countries. Visitors don't need visas, and pay little or no tax.
Shi Ning, 32, was one of the first businessmen to use the center when it opened in 2012. He sells goods to Kazakh tradesmen and now has three markets in the center after starting with one.
Shi said he and his partners had also taken advantage of the exploding cross-border trade to build a hotel for visiting businessmen from Kazakhstan, Kyrgyzstan and Uzbekistan.
"Many of them choose to stay at the center longer than before as there are more markets and goods for them to choose from," Shi said in the hotel lobby.
He said he will bring more high-end Chinese products such as cellphones to sell in his markets as they are becoming increasingly popular with Central Asian buyers.
Meanwhile, Yu, the "fruit king", has his eyes set on importing fruit from Central Asia to Chinese markets. Cheaper transportation and efficient customs clearance along the Silk Road Economic Belt have made this possible.
A container truck carrying melons from Kyrgyzstan arrived recently at Yu's company in Horgos, the first time he had imported rather than exported fruit.
"It only took 12 hours for the melons to arrive at Horgos. The trial was a success," Yu said.
"I will bring more quality fruit from Central Asia, and even Europe, to Chinese markets via the new Silk Road in the future."