'King of Naan' succeeds on an industrial scale
By Cui Jia in Urumqi | China Daily | Updated: 2019-08-14 09:56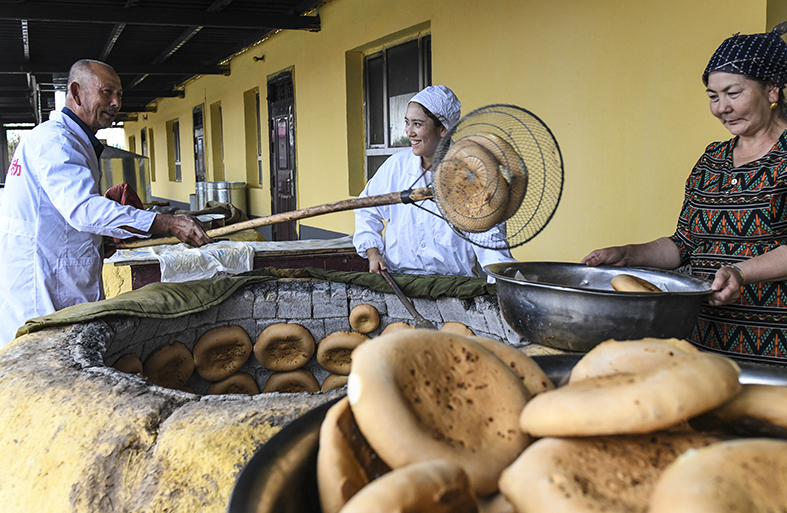 Eight other traditional naan store owners now produce the flatbread on an industrial scale at the park. "We were competitors on the streets and we are still competitors here. I can only prove I am the 'King of Naan' by making the best naan," Tursonjon said.
His factory can produce 10,000 naans a day. They are sold around Xinjiang as well as in Shanghai and Beijing.
The workers at the industrial park have to face new challenges as traditional wood-fired pits have been replaced with electric ones for environmental protection reasons. "It's not easy to control the temperature of the electric naan pits, but we have to adapt to the changes," Tursonjon said.
But producing naan on an industrial scale can help entrepreneurs expand capacity and meet market demand, particularly from e-commerce, Tursonjon said.
Naan is a food staple of ethnic groups in Xinjiang, including Uygurs and Kazaks. It was brought to the region via the ancient Silk Road. Many locals say they can live without meat for three days, as long as they have naan every day.
"Before this, we could only try to meet local demand. Sales outside Xinjiang weren't our priority," Tursonjon said.
"Now that we have more kitchen space and naan pits, we can supply products to e-commerce retailers outside the region."