Russia to review 'foreign interference' in protests
By Ren Qi in Moscow | China Daily | Updated: 2019-08-14 10:37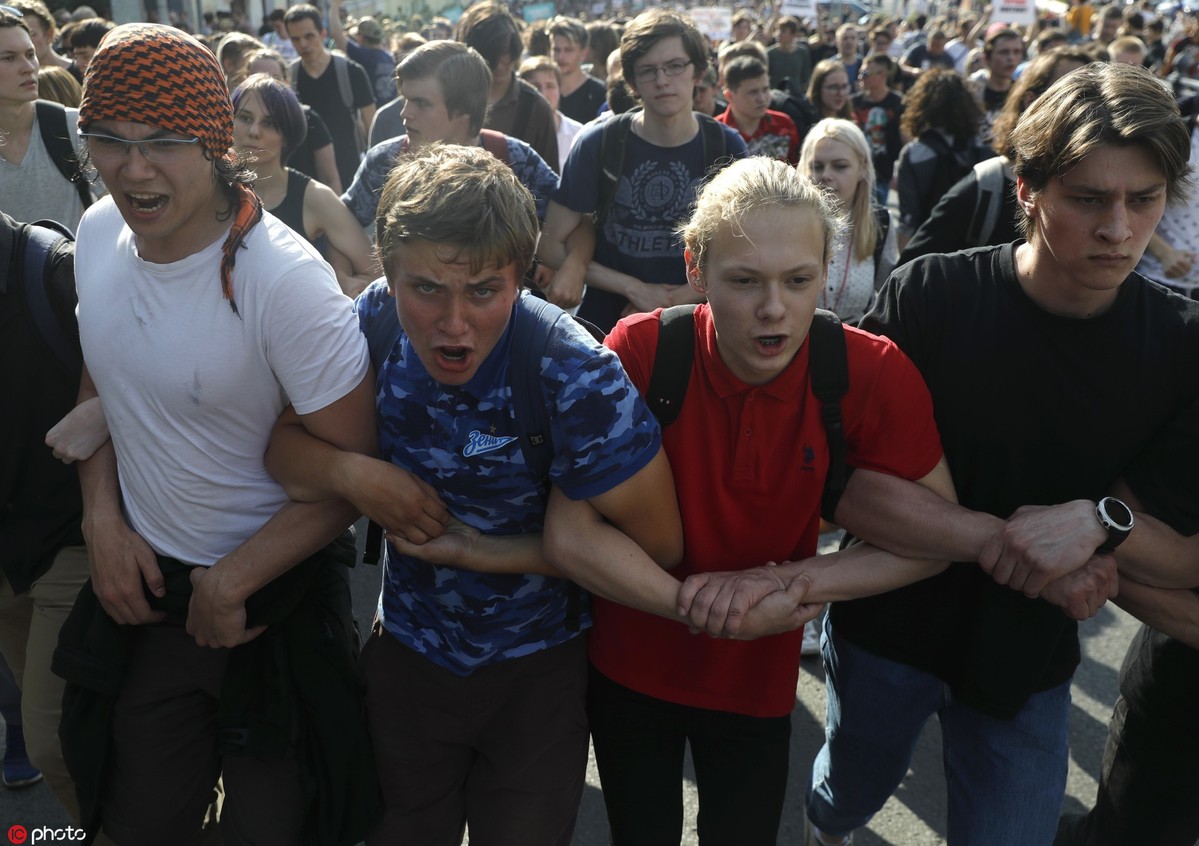 The Russian lower house of the parliament council will meet on Monday to discuss foreign interference in the country's domestic affairs, particularly during the recent rallies in Moscow.
A ban on opposition candidates, who allegedly used fake signatures on their nominating petitions, drew four protests attended by thousands of people on the past four Saturdays, Xinhua reported.
The government claimed some of the protests were "unauthorized", including the one last Saturday.
The police has so far detained more than 1,600 people, including members of opposition parties.
Vyacheslav Volodin, speaker of the State Duma, the lower house of the parliament, said all of the Duma's political factions believe there is a need to investigate foreign interference in Russia's domestic affairs.
The proposal of the investigation was initially called by some Duma opposition factions to investigate whether foreign media outlets and diplomatic missions interfered the recent rallies in Moscow. The initiative was soon supported by the ruling party, the United Russia.
According to Volodin, the State Duma Security and Anti-Corruption Committee "has been instructed to study all the available data and assess the situation to launch an investigation into foreign interference to the State Duma Council".
Russian Foreign Ministry said that the United States might have encouraged the protesters through websites and social media networks.
The ministry summoned the minister-counselor of the US embassy in Moscow, Tim Richardson, late last week, as the US State Department issued a travel warning on Twitter with the routes of the unauthorized demonstration scheduled in downtown Moscow a day later.
The US embassy also published the map of the route on its website and reminded US citizens to avoid certain areas.
The Russian Foreign Ministry said in a statement that posting the route is "an act encouraging participation and a call to action, which constitutes an attempt to interfere in Russia's domestic affairs".
Moscow police has also launched a probe about police brutality during the detention of a girl at the Saturday's rally.
A video was posted on the internet earlier that showed two police officers detaining activist Darya Sosnovskaya after the rally. The clip shows one of the officers punching her.
According to medical reports available to the Russian state Tass News Agency, the activist suffered a contusion to her scalp and chest as a result of the beating.
Tass quoted an unidentified source saying the Interior Ministry has order a probe into "the use of force against public order" during the rally.