Violence at airport 'overstepped' society's bottom line: HKSAR govt
By China Daily | chinadaily.com.cn | Updated: 2019-08-14 11:03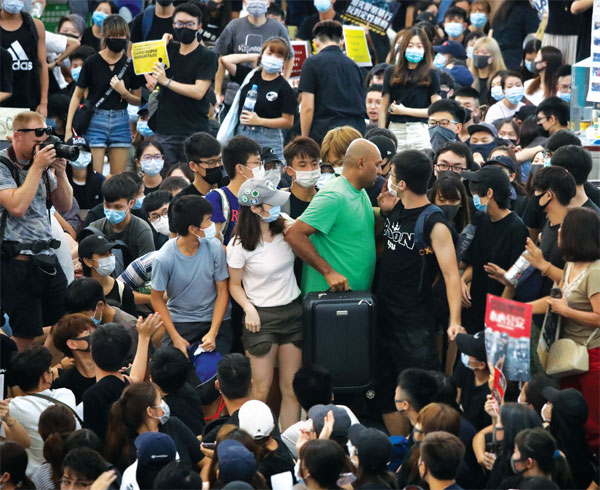 The Hong Kong Special Administrative Region government severely condemned violent acts carried out at the Hong Kong International Airport on Tuesday night, saying such acts are "outrageous and have overstepped the bottom line of a civilized society".
In a statement issued at about 3 am Wednesday, the government vowed to take relentless enforcement action to bring the persons involved to justice.
About an hour later, the Hong Kong Police Force issued a statement voicing its severe condemnation of protesters' acts that disregarded law and order. It reiterated that an in-depth investigation will be conducted, tracing all clues to bring assailants to justice.
The massive illegal sit-in at the Hong Kong International Airport, which started Friday, left thousands of travelers stranded inside the airport's departure area as the Airport Authority cancelled all departure flights on Monday and Tuesday.
The authority said on Wednesday that it had obtained an interim injunction to stop people from obstructing operations as Hong Kong International Airport resumed operations on Wednesday.
The sit-it escalated to violence on Tuesday evening when a mainland traveler was accused of being an undercover police officer by rioters. He was then beaten up and denied access to medical attention as numerous protesters continuously hurled miscellaneous objects and aimed laser beams at police officers, who came in to rescue the man.
The rioters later detained and assaulted Global Times reporter Fu Guohao, tying his wrists with plastic straps. Fu even fainted for a short period of time.
Before ambulance attendants successfully transported the two victims to Princess Margaret Hospital and North Lantau Hospital, respectively, a mob of rioters violently clashed with police officers, obstructed the path to get the injured men to the hospital and vandalized vehicles the officers used.
A police officer was assaulted and his baton was snatched. To protect himself from threats to to his life or serious injury, the officer withdrew a pistol and stayed on guard.