Pakistan's Miracle Motorway - the Multan-Sukkur
By Bilal Sabri | chinadaily.com.cn | Updated: 2019-08-14 17:13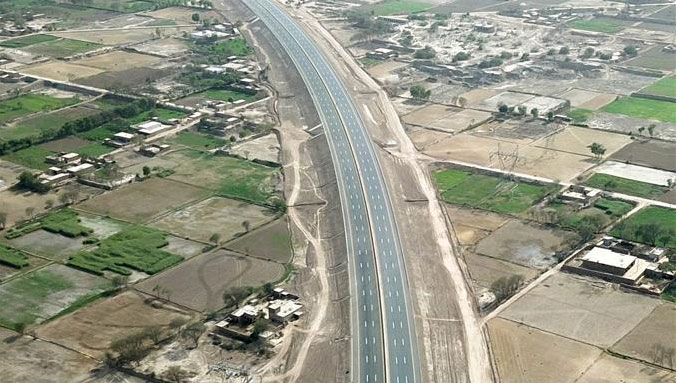 On the banks of the Chenab River sits Pakistan's 7th largest city, Multan. The air on July 24 was as humid as any other summer day, only this time, the residents awoke to an unprecedented level of activity. The major cultural and economic center of southern Punjab was now connected to surrounding regions by the Motorway 5.
Inaugurated on May 6, 2016, the M5 mega project was developed as part of a pilot project for the China-Pakistan Economic Corridor (CPEC), under the framework of China's Belt and Road Initiative (BRI) with a total investment of around $2.89 billion.
The strategically-placed six-lane M5 starts from Multan and connects Jalalpur, Peerwala, Ahmed Pur East, Rahimyar Khan, Sadiqabad, Ubaro, Pano Aqil and finishes at Sukkur. The 392-kilometer M5 Sukkur-Multan Motorway is a part of the country's Peshawar-Karachi Motorway. It is designed for speeds of up to 120 km. The motorway has 12 service areas, 10 rest areas, 11 interchanges, 10 flyovers, and 426 underpasses.
The project is particularly significant since it has been constructed to resist flooding with the help of the latest technology and methods, including the Intelligent Traffic System. It is equipped with FM broadcasting, 360-degree angle monitoring, WIFI in service areas and ample night lighting.
Sukkur-Multan Motorway relied on domestically produced materials and goods such as 60 million bricks, 6 million tiles, 1 million tons of cement, 9,200 sets of machines and tools and created more than 29,000 jobs for locals during construction. The M5 also enables residents to improve their standard of living by connecting schools, small bridges, avenues, wells and water channels.
CPEC projects have largely helped Pakistan overcome economic constraints, attracting large funds as Foreign Direct Investment (FDI). The world has begun ranking Pakistan among the top potential economic powers of the future, with a recent World Bank report listing Pakistan among the top 15 emerging economies of the globe.
Federal Minister for Communications Murad Saeed said they appreciate China's contribution towards Pakistan's economic progress in the form of CPEC, which is an attractive reflection of the Pakistan-China strategic partnership.
At an opening ceremony held in Multan, National Highway Authority (NHA) M5 General Manager Muhammad Naseem Arif said the motorway is very impressive in terms of its quality and construction.
Authorities worked closely with the China State Construction Engineering Corporation (CSCEC) and overcame a number of difficulties so that they could complete the large project within three years.
Li Ganchun, chief of the M5 project from the CSCEC, appreciated the security provided by the Pakistani side, saying that the M5 will help Pakistan connect its northern and southern regions, improve the country's transportation and facilitate social economic development in the region along the motorway.
CPEC appears like a miracle for Pakistan's ailing economy. According to Chinese Ambassador to Pakistan Yao Jing, CPEC has generated around 75,000 direct and indirect jobs - but this figure is just the tip of the iceberg. A recent World Bank report has claimed that at the current pace, CPEC will create more than one million jobs in Pakistan by the year 2030.
Since Prime Minister Imran Khan has refocused on establishing vocational training institutes and Special Economic Zones across the country, millions of new high- and low-end jobs are expected to be created due to economic activities generated by the CPEC.
Following China's investments, other regional and global players have also jumped in to boost economic activity in Pakistan. Saudi Arabia has signed an investment agreement of over $20 billion with Pakistan. The United Arab Emirates, Qatar, Turkey, Russia and Malaysia have also announced investment ventures in Pakistan.
European economic giants Germany, France and the United Kingdom are also exploring opportunities to invest in Pakistan as it grows into an investment-friendly destination after the recently announced revolutionary visa regime by the government of Pakistan, opening up the country to investors, tourists and visitors from across the globe.
Bilal Sabri is a journalist of Pakistan Today and Diplomag.