Cleaner's 15-year-long fight against water bloom is paying off
By Liu Kun and Li Lei | China Daily | Updated: 2019-08-20 09:04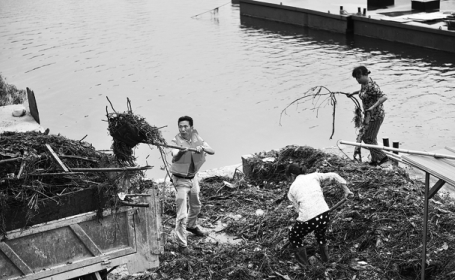 In his 15 years fighting overgrown aquatic plants and floating garbage on the Huangbai River in Yichang, Hubei province, Bi Jiapei will never forget the outbreak of water hyacinth in 2006, which almost pushed the riverside city to the brink of crisis.
As a tributary of the Yangtze River, the river supplies drinking water to 2 million Yichang residents and offers irrigation water for tens of thousands of hectares of farmland.
To contain the massive water bloom, Bi and his colleagues in a cleanup crew along the Huangbai River toiled for more than three months to remove the invasive species that had taken hold of their mother river. On an average day, Bi and others reported collecting 70 metric tons of stinky waste daily, mostly the hyacinth along with some household garbage.
"By September that year, the plants became so thick that our boat struggled to move," he said.
But now the 64-year-old feels that a future crisis of that scale seems unlikely, as local authorities have ramped up efforts over the past few years to treat waters in the ecologically critical region, which is home to a wide array of species.
The change follows the Yichang government's intensified battle against the illegal discharge of phosphorus by fertilizer producers and mines. The chemical element is among the major contributors for water eutrophication, a process by which waters become overly rich with mineral or organic nutrients and lead to outbreaks of organisms.
In 2016, local authorities began limiting the output of phosphorus mines and shutting down smaller ones. It then went on to shutter or relocate riverside chemical plants and poultry farms.
Government figures show the output of phosphorus mines in Yichang was around 1,000 tons last year, a year-on-year decline of 23 percent. In addition, 30 chemical plants were shut down last year, with dozens more moved elsewhere or made to upgrade their equipment to reduce environmental impact.
Local officials said the move was courageous as the chemical industry accounts for almost one-third of its gross industrial output value, but the results were obvious.
Official data show the phosphorus concentration in the Yangtze River's Yichang section last year saw a 43.6 percent decline compared with 2015. Major Yangtze tributaries there have all reached concentration standards set by a local watchdog, and it kept dropping over the past three years.
Bi said his team collects far less floating garbage than in the past.
"The river now seldom smells in the sweltering summer," he said.
He noted that aside from the government policies, the growing awareness of water ecology among the public has also played a role in the progress.
"There's less garbage visible on the river," he said. "The wharves along the river are gradually becoming lush with newly-planted trees."