Zhou in reload mode as he searches for redemption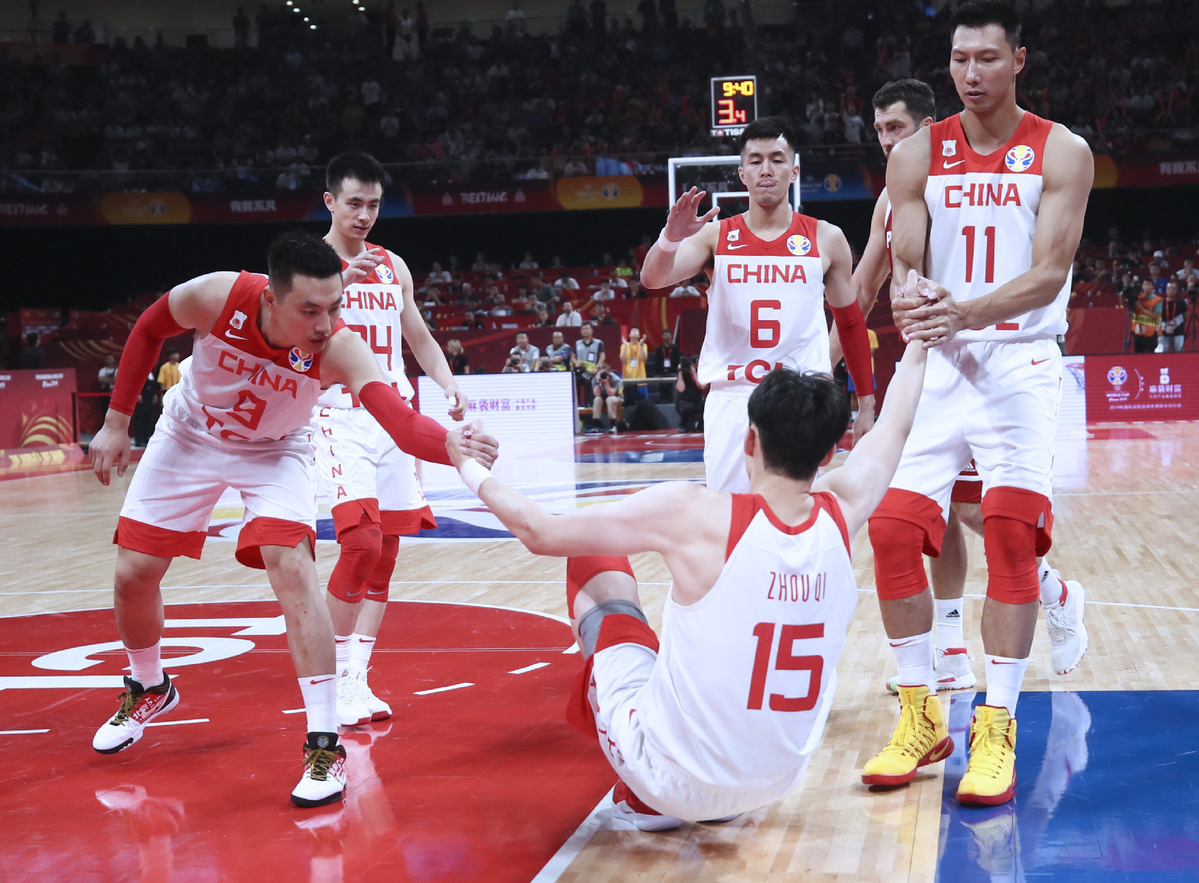 Fans are still pinning hopes on Zhou Qi to become the next leader of Chinese basketball after the 23-year-old turned in a disappointing performance in Monday's 79-76 overtime loss to Poland in their Group A match at the FIBA World Cup at Wukesong Arena in Beijing.
It's not fair to say Zhou's lackluster effort was the main reason for the setback, but his botched inbound play with 7.2 seconds left in regulation time led to Poland knotting the score.
Zhou's miscue attracted even bigger attention than the day he joined the NBA's Houston Rockets. Within an hour, video of the play was the hottest topic on Chinese social media, and related topics garnered more than 1 billion hits overnight on Weibo.
Zhou's personal Weibo account has been flooded by tens of thousands of fan comments expressing anger and disappointment under his pre-World Cup post that stated: "Play together, we will continue to fight!"
"It was a tough night, and I'm responsible for several mistakes at the end of the game," Zhou said at Tuesday's practice. "And I was not in good condition during the overtime. For me, I'm not experienced to fight in such a tight game. I must learn from it and improve my mindset when I face such a situation again.
"I cannot change the result. All we can do is to prepare for our next match."
Zhou contributed 10 points, seven rebounds and two assists during his 28 minutes on the floor. Captain Yi Jianlian led Team China with 24 points and eight rebounds.
Chinese Basketball Association chairman Yao Ming, watching the game from courtside, frowned and pursed his lips as the final seconds ticked off, while retired Team China player Wang Shipeng, now working as a TV commentator, wept during the live broadcast.
The squad must now regroup for Wednesday's game against Venezuela.
Yi, Guo Ailun, Wang Zhelin and Sun Minghui all posted the same photo on Weibo to support Zhou. Under a caption reading "Even defeated, we stand together", it shows a quartet of teammates pulling Zhou up from the floor.
"If we cannot stand together when we are defeated, we will not march towards success in the future," said Yi. "This is one of the most important parts of being a team. So I love this photo."
Zhou has endured a couple of tough years trying to live up to the expectations of fans. He was the only Chinese player in the NBA last season, hoping to follow in the footsteps of NBA Hall of Famer Yao with the Rockets.
Zhou showed initial promise off the bench in Houston but was unable to become a more reliable player. A series of injuries, including a sprained knee and a twisted elbow, limited his playing time and the Rockets eventually released him to their G-League affiliate, the Rio Grande Valley Vipers.
The young star became jobless when the Rockets waived him last December, but last month he returned to his former CBA club, the Xinjiang Flying Tigers.
"I have been trying to find my pace during the whole summer because I have not played matches for a long time," Zhou said before Monday's game. "What I've been through these past two years means a lot to me. It's valuable life experience and has made me more mature.
"I'm not as fragile as I was before, and I'm much calmer when I have to face different situations. I doubted myself before; now I want to be myself and stop thinking so much."