US reaches last 16 after winning overtime thriller over Turkey
Share - WeChat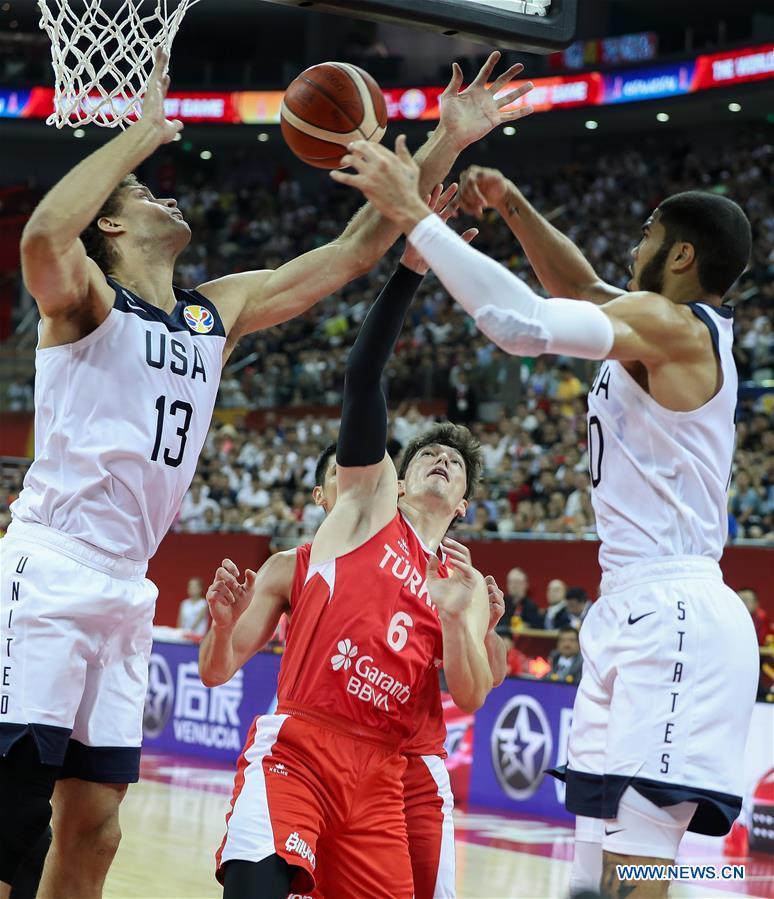 SHANGHAI - Team USA booked a berth into the round of 16 at the FIBA Basketball World Cup 2019 after winning a 93-92 overtime thriller against Turkey for its 2-0 record in Group E here on Tuesday.
With just 12 seconds on the clock, Ersan Ilyasova, who scored Turkey's all six points during the opening five minutes, tipped in to put Turkey ahead 81-79, before American Jayson Tatum made two out of his three free throws to force the overtime at 81-81.
During the overtime, the Turks even missed their four free throws in the dying seconds. Then came Khris Middlerton who drew a foul from Turkey's Bugrahan Tuncer, made both free throws to help US overtake the lead 93-92 with 0.2 seconds remaining.
Ilyasova missed his last desperate three-pointer attempt to grant the victory to the United States.
With 12 NBA players in the squad, the Americans led from the very beginning, finishing the first quarter 26-21.
Five minutes into the second quarter, the Turks staged a 12-0 run thanks to three 3-pointers from Ilyasova and Scott Wilbekin, cutting the deficit from 15 to 3. But Team USA still led 47-42 into the second half.
Turkey had several chances to take the lead, but only leveled at 59-59 with two minutes left in the third quarter. And it was the U.S. who rushed into the fourth quarter with a four-point lead.
With the win, the United States has booked a last 16 spot ahead of its last Group E game against Japan on Thursday, while Turkey and the Czech Republic will fight for the other qualifying ticket.
Ilyasova had a game-high 23 points and 14 rebounds, Melih Mahmutoglu had 18 points, Furkan Korkmaz added 16 for Turkey.
"The USA is the favorite of this tournament. We made easy turnovers in the end, but we need to focus on the next game against the Czech Republic," said Turkey's head coach Ufuk Sarica.
"We lost, so it doesn't matter how many points we got. The most important thing is to forget about what happened today, and focus on the Czech Republic game, the final group game," said Korkmaz.
The USA proved to be the better one as all players scored with Middleton making team-high 16 points.
"Playing a fine team like Turkey gives us a good example to show how we can be. We have to use every game as practice to get better," said USA head coach Gregg Popovich.