Conte is set to lead new Italian govt
By Earle Gale in London | China Daily Global | Updated: 2019-09-05 00:21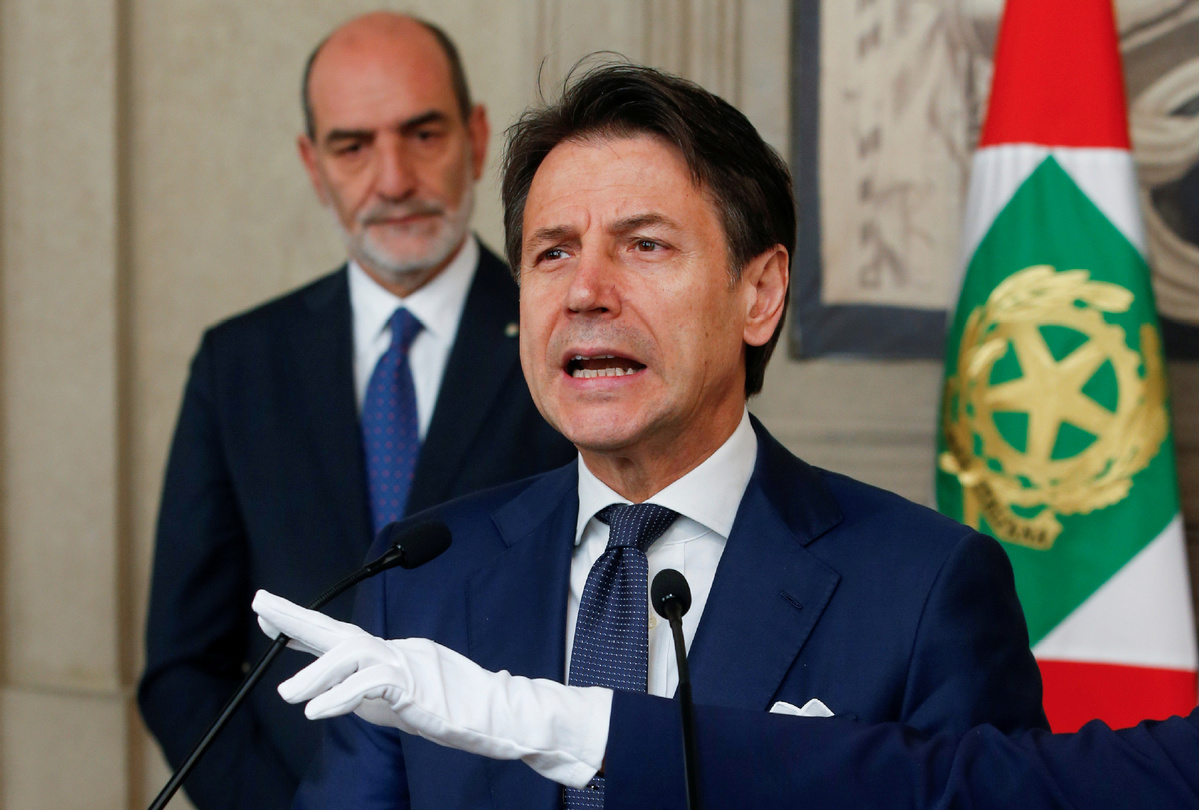 Italy's president met Giuseppe Conte on Wednesday to formally ask him to lead a new government, marking the end of a turbulent chapter in the nation's political story in which Conte outmaneuvered his ambitious adversary Matteo Salvini.
Conte, a professor of law by trade, will lead a coalition government comprising the anti-establishment Five Star Movement and the center-left Democratic Party, which is also known as PD.
Salvini had earlier hoped to win power through snap elections after forcing his then collaborator, Conte, from office as prime minister, but his plan failed and the new coalition means an election has been avoided.
Conte's new coalition of formerly rival political parties will now edge Italy toward the center ground from the previous government's more right-wing standpoint, likely ensuring better relations with the European Union, with which Salvini frequently quarreled over issues including the bloc's immigration policy.
Conte brands himself as an independent and first came to the public's attention a year ago when he was chosen to lead a coalition between Five Star and the right-wing League led by Salvini.
Salvini criticized his former coalition partners Five Star for teaming up with PD to form the new government, saying his time in opposition will be short.
"From today, you will see me even more completely p***ed off and determined than before," the Financial Times quoted Salvini as saying. "I will go from town to town and we will take this country back."
His party had fared well in European parliamentary elections earlier this year and, buoyed by that and encouraging opinion polls, he had ended the coalition his League party had formed with Five Star, forcing Conte to resign as prime minister after calling for a vote of no confidence in him.
But his plan to bring down the government he participated in and force a general election in a bid to capitalize on his party's popularity backfired when his former coalition partners, Five Star, teamed up with PD.
Before meeting with President Sergio Mattarella in Rome on Wednesday, the new government released a 26-point provisional program pledging to pursue an "expansive" budget "without compromising public finances".
The new government also called on the EU's political leaders to be flexible with budgetary rules, so Italy can introduce policies to stimulate its slumbering economy.
The FT quoted Luigi Di Maio, the political leader of Five Star and formerly a joint deputy prime minister alongside the defeated Salvini, as saying the partnership with PD will ensure his party's work can continue.
"This will not be a left-wing or a right-wing government but a government that has to do what is right," Di Maio said.
The BBC said PD leader Nicola Zingaretti has promised "the real change Italy needs", which will likely include a reversal or relaxation of Salvini's earlier decision to close Italian ports to boats carrying migrants from other nations.
The new coalition also hopes to introduce a minimum wage, cut taxes, and plans extra spending on education, social security, and research as well as a tax on internet giants and a reduction in the number of lawmakers in Parliament.
Bloomberg reported that the financial markets reacted well to the new government, with Italian bonds rallying for a third straight day.