Commercial alley promoting cultural heritage opens in Beijing
By Chen Nan | China Daily | Updated: 2019-09-05 08:07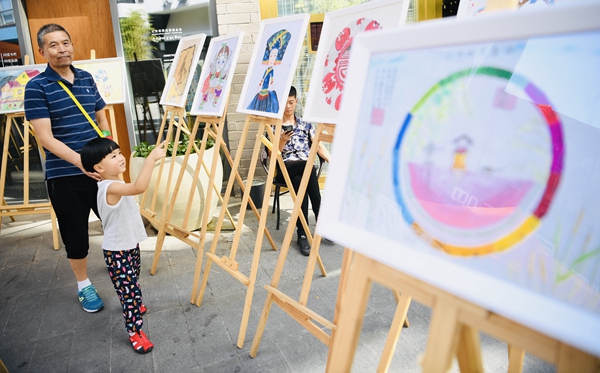 A commercial alley to promote intangible cultural heritage and ethnic artworks was inaugurated at the 22 International Art Plaza in downtown Beijing on Saturday.
The 1,000-meter-long alley, located near Beijing's central business district, gathered around 40 booths featuring works of ethnic artists from across the country for its opening day.
Clad in traditional dress and headgear, ethnic Mongolian singer Morigen, who was born and raised in the Inner Mongolia autonomous region's Alxa League, performed folk songs featuring Urtin Duu, or long song-an ancient form of folk-singing-as she opened the event.
Open on weekends, the alley, named Hong Yun Fang, is designed to become a popular haunt for tourists as well as people living in the capital, just like Panjiayuan Antique Market, a landmark for collectors and traders, and Nanluoguxiang, a busy south-north commercial street hidden among the hutong.
According to Wei Qing, co-initiator of the commercial alley, the goal is about trying to integrate intangible cultural heritage artworks into people's daily lives.
"We will launch live performances, exhibitions and workshops that actually make that art and culture more accessible to people," Wei says.
The 22 International Art Plaza, which is home to art pieces from the nearby Today Art Museum, one of the few private art museums in Beijing, as well as several coffee shops and restaurants, has become a popular location among young city dwellers.