Cultural tour boosts national spirit, shared roots
By Yang Zekun | China Daily | Updated: 2019-09-05 09:45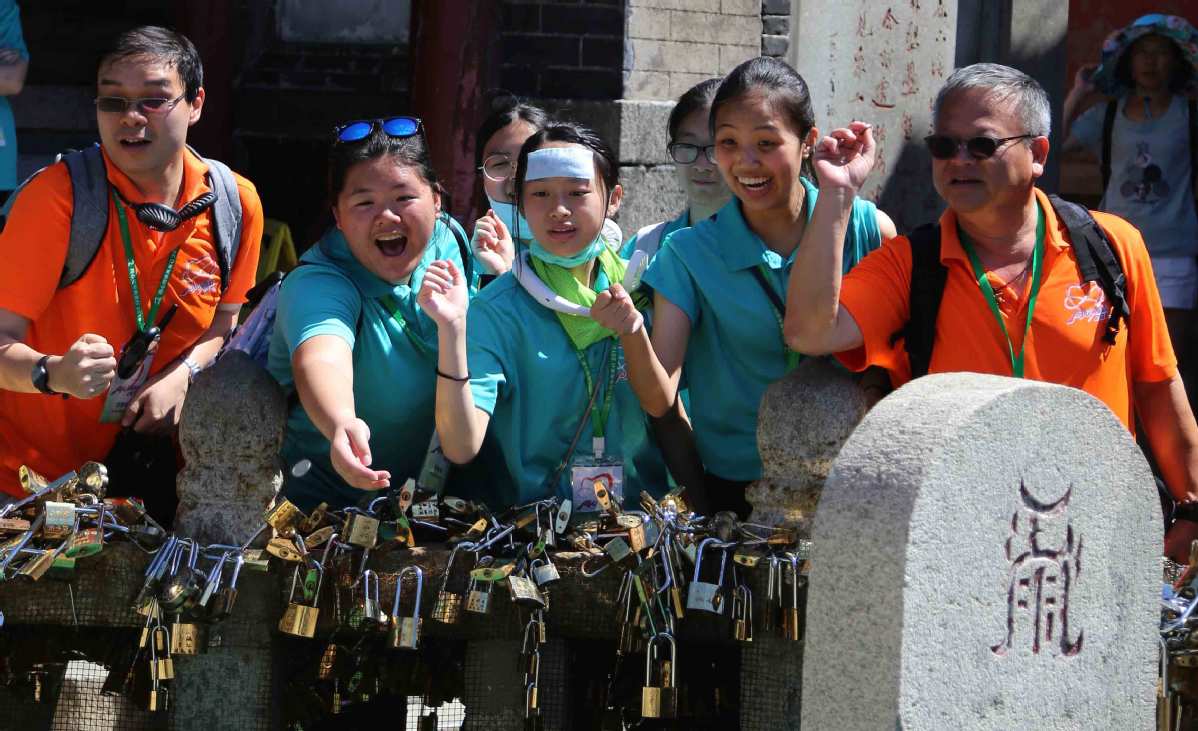 Inclusivity and diversity
Initially, Yu, the history student, thought the trip might be similar to other mainland tours he had taken. However, the moment Yu arrived in Beijing, the first stop, he had a feeling that he would be surprised.
He quickly discovered the answer to a question that had been bugging him: To what extent is Hong Kong connected culturally with the mainland?
"I now feel that we are one family with the same culture and customs. Many things, such as the family culture and harmony that we often talk about in Hong Kong, come from Confucius," he said.
"There are no barriers or cultural differences between Hong Kong and the mainland. Hong Kong may have absorbed some Western ideas, but everything is based on traditional Chinese culture - people have the same roots," he said.
"I've been to Heilongjiang province, Shanghai, and now Beijing and Shandong province. These places all have their own culture, reflecting the inclusivity and diversity of China."
Illness prevented Yu Ka-wing, 14, a member of the Girls Brigade Hong Kong, from reaching the highest point of the Great Wall, which left her feeling sad. However, the trip to Mount Tai and the Temple of Confucius made up for her disappointment.
She likes history and traditional culture, so she prepared for the trip by studying Confucius.
"I often go to the library with my classmates to read history books. History and culture need something concrete to show the world, because words and pictures are sometimes quite dull, so what you see in practice is different," she said.
"Some of my friends think the mainland has exactly the same history and culture as Hong Kong, but now I know how great China's history is. We speak Cantonese and English a lot in Hong Kong, but we also feel good when we speak Mandarin, because we have the same cultural roots."
Chong Ring-ning, 15, a member of the Scout Association of Hong Kong, enjoyed her visit to the mainland, and is planning to apply to a university in Beijing because she is attracted to life in the capital.
The senior high school student is studying the international baccalaureate diploma program at school. "Most of my classmates will apply to study at universities in Hong Kong or overseas, but I don't want to do that - I feel that the mainland is really good," she said.
"I knew the mainland had a lot of beautiful and interesting places, and I would not be resistant to the culture, unlike some people in Hong Kong."
Now, she wants to travel more extensively on the mainland - especially to places tour groups don't visit - to learn about local cultures and customs and try the wide variety of food.
Morality stressed
Hui Chun-long, director of the Association of Hong Kong Flag-guards, said the trip would help the young people learn more about the mainland and culture. "Confucius is a bit strange to them, so the trip and detailed introduction helped a lot," he said.
On July 1, 2002, to mark the fifth anniversary of Hong Kong's return to the motherland, Hui and eight friends founded the association, which promotes awareness of the National Flag, the National Anthem and the National Emblem and urges young people to cherish those symbols.
Hui, who has studied Confucian doctrine, visited Shandong when he was a college student majoring in history. "Chinese traditions, such as respecting teachers, caring for others, and benevolence, are deeply rooted. Our association regularly stresses the need to care for teachers, students, friends and classmates in school, which derives from Confucian culture," he said.
"We also emphasize morality. In traditional Chinese culture that is more important than people's abilities, and that principle holds true today. I believe it is an inevitable that we will learn more about traditional culture."
He cited a classic maxim from The Book of Rites, an important book of Confucianism: "Cultivate oneself, put the family in order, govern the state and pacify the world."
Many members of the delegation said their involvement was a way of thanking the society that raised them, and every uniformed group is aided by volunteers who help train the students.
For example, Wong Chi-tak, a surgeon who acted as the delegation's medical officer, has attended training sessions almost every week since he joined the Hong Kong Adventure Corps in 2015.
In 1993, he visited Beijing, and although the city's appearance and people's lifestyles have changed, he can still sense kindness and hospitality.
He joined the Auxiliary Medical Service Cadet Corps when he was a junior high school student, and after training as a doctor, he decided to serve the uniformed groups because many lacked medical officers.
Like other voluntary personnel, he offers his services free of charge and covers his own costs for transportation, food and other items.
Wong, the surgeon, said: "I just want to do something to serve society, and I am very happy to see young people grow up through training. This is a process of passing down knowledge to them, just like Chinese culture is passed down and carried forward from generation to generation."