The hand that's shocked and able
By Li Yingxue | China Daily | Updated: 2019-09-06 09:08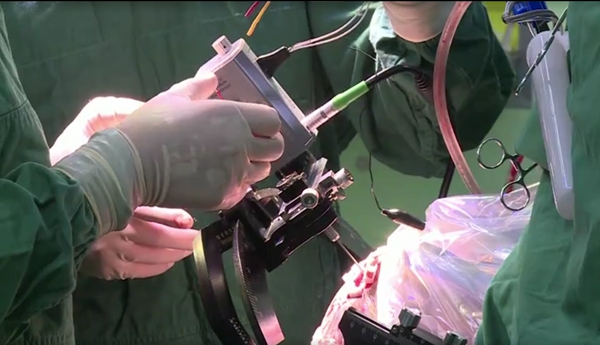 Chinese neurosurgeon, Tian Hong, is bringing his patients relief from debilitating motor function disorders with skill and compassion, Li Yingxue reports.
Li Xiaoyun, 62, lies awake, blinking, as doctor Tian Hong finishes drilling two holes in her skull.
Into both of the freshly-bored cavities, each about 14 millimeters in diameter, he gently inserts a 1.25 mm probe electrode.
When the probe electrodes make contact with the brain nucleus, as planned, Tian turns on the power. Suddenly, the tremor in Li's hands, an affliction from which she's suffered for nearly 20 years, just stops and her hands lie still for the first time in decades.
Before surgery, Tian had asked Li to complete a series of seemingly everyday tasks, which, because of her shaking hands, proved to be insurmountable challenges. They included holding a glass of liquid, writing her name and touching her fingertip to his.
Now, Tian asks Li to poke a chopstick into the opening of a small bottle, something which until minutes ago would have been an impossible task. But now? Slowly, but steadily, she manages to do so.
Tian instructs her to count aloud from one to five and to perform a few other simple tasks, just to make sure her other functions are not being affected by the electrodes, while in the background a monitor frantically displays the signals emanating from them.
The four-hour operation continues as Tian signals to her anesthetist to put Li to sleep for the next partthe installation of permanent electrodes, their extension wire and an internal pulse generator.
Without the need for further incisions, Tian is able to insert all three components into the sleeping Lithe wire runs under her skin, down along her neck and is linked to the generator, which is placed just below the clavicle.