Mayweather pondering China bout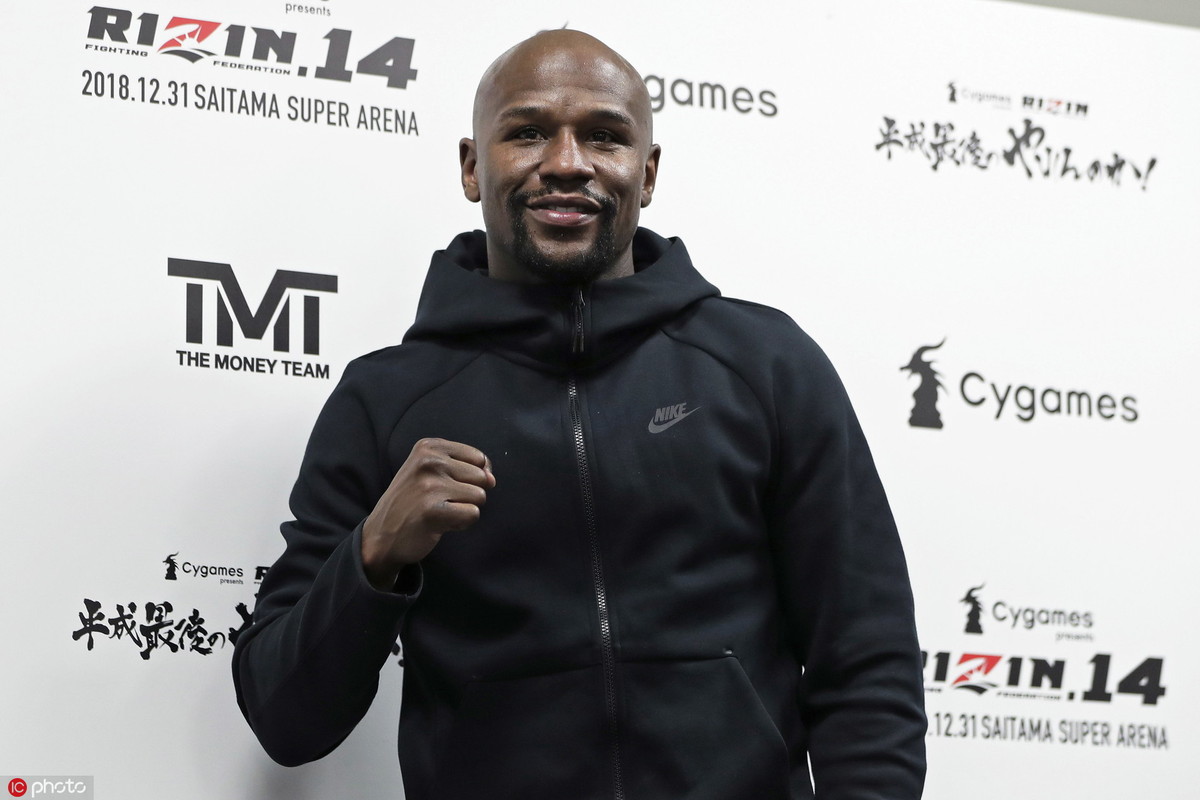 Mayweather pondering China bout
If you've got it, flaunt it.
Floyd Mayweather, who has pledged to use his fame and influence to focus boxing's global spotlight on China, knows there's no better way than by climbing back in the ring himself.
The South China Morning Post reported on the weekend that the retired former five-division world champion is in negotiations with the Mission Hills Group to stage an exhibition bout against a Chinese opponent, and a media conference has been scheduled for Sept 18 in Haikou, Hainan province, to announce the details.
"The media conference will announce that Mayweather will hold a boxing match in China next year," a representative of MHG told the Post.
"We have already got the Hainan government's temporary approval for this event, but everything needs to be confirmed with Floyd as well. The details are not yet 100 percent finalized. We are in negotiations with Mayweather's management team.
"This match aims to enhance the friendship between two powerful nations through boxing, gaining popularity for Hainan in the role of an international tourism island and achieving Mission Hills' vision of bringing world-class sports events to Haikou."
In July, the 42-year-old Mayweather was recruited by the Chinese Boxing Federation to serve as a special adviser to the national team.
In announcing the deal, the featherweight bronze medalist at the 1996 Atlanta Olympics and one of the greatest defensive fighters in ring history pledged "to go all out" to use his influence and resources to boost China's profile in the sport ahead of next summer's Tokyo Games.
China first competed in Olympic boxing in 1984 at Los Angeles, but it wasn't until Athens 2004 that Zou Shiming won the nation's first medal-a bronze in the light flyweight division.
Zou and light heavyweight Zhang Xiaoping became national heroes by winning gold at the 2008 Beijing Games and Zou was champion again at London 2012, but there's been little for Chinese fight fans to get excited about since.
A total of 43 boxers (38 men, nine women) have represented the nation in nine Olympics, bringing home 12 medals. In 2016 at Rio de Janeiro, Yin Junhua captured silver in the women's lightweight division, Li Qian won bronze in women's middleweight and Hu Jianguan took bronze in men's flyweight.
After retiring in late 2016 with a 50-0 record, one of Mayweather's first moves was to visit Beijing, Shanghai, Hong Kong and Chengdu (where he purchased naming rights to a baby panda). The champ interacted with fans and posted online photos of himself and his entourage on the Great Wall.
Mayweather-aka 'Money'-pocketed an estimated $300 million for defeating Manny Pacquiao in 2015's "Fight of the Century" and earned another $350 million two years later for his TKO of Irish mixed martial arts champion Conor McGregor in a crossover match.
Mayweather is set to tour the Missions Hills Resort Haikou on Sept 17, after which he will be feted at a private welcoming dinner.