Survey: two-thirds in US want good ties with China
By ZHAO HUANXIN in Washington | China Daily Global | Updated: 2019-09-11 00:23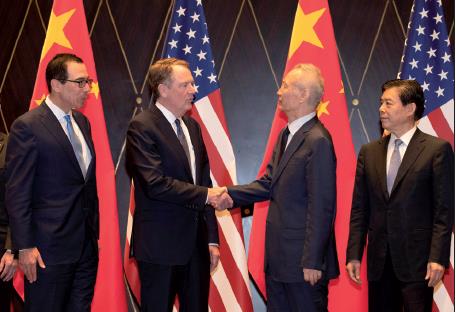 Two in three Americans prefer friendly cooperation and engagement with China, and a vast majority of the US public favors trade with the world's second-largest economy, according to the 2019 Chicago Council Survey, released on Monday.
The survey, a detailed look into Americans' views on the vital issues the US faces, including the value of trade and military alliances and the threats from rivals, also found that majorities across political affiliations oppose selling arms to Taiwan.
"While a growing number of Washington insiders perceive China as a grave military and economic threat requiring confrontation, the American public prefers cooperation," it said.
As has been the case since the council first asked the question in 2006, two-thirds of Americans, or 68 percent, say they prefer to undertake friendly cooperation and engagement with China, rather than working to limit the growth of China's power, according to the survey.
This is also the case regardless of party affiliation, for 74 percent of Democrats, 69 percent of independents, and 58 percent of Republicans say they prefer a policy of friendly cooperation and engagement with China, according to the survey.
The Chicago Council survey has been conducted every four years since 1974, biennially since 2002, and annually since 2014. It was conducted from June 7-20 this year among a representative national sample of 2,059 adults.
It found that Americans are more likely to see trade as win–win rather than zero-sum.
More than in any previous Chicago Council Survey, the public says that international trade is good for the US economy (87 percent) and American companies (83 percent), according to a survey report.
"These results are a stark change from 2016, when just 59 percent said that international trade was good for the US economy," it said.
Furthermore, the survey found that more Americans now (63 percent) than when last asked in 2017 (51 percent) believe that trade deals benefit both the United States and its trading partners, a deviation from the perception of the hawkish in Washington who believe that the US has been "taken advantage of" by its trading partners.
Nearly three-quarters of the responders said they favor engaging in trade with China, just 2 percentage points shy of those who say they favor trade with South Korea, according to the survey.
Only 30 percent of Democrats support placing tariffs on products imported from China, far fewer than the Republicans, who follow the lead of the US president.
The two countries have slapped tariffs on hundreds of billions of dollars worth of each other's imports since early 2018, with the latest round of duties taking effect on Sept 1.
The two sides have agreed to resume high-level trade talks in Washington early next month, after 12 rounds of such meetings failed to reach an agreement acceptable to both countries.
US Treasury Secretary Steven Mnuchin said on Monday that the US and China have a "conceptual" agreement on enforcement concerns, emphasizing positive progress already made in trade talks, CNBC reported.
The Chicago survey also found that majorities across political affiliations support negotiating arms-control agreements between China and the United States and cooperating on international development-assistance projects, and that Americans across partisan lines oppose selling arms to Taiwan.
Late last month, the US State Department approved a potential $8 billion arms package, including F-16 fighter jets, to Taiwan, according to a statement by the US Defense Security Cooperation Agency.
A spokesman for China's Ministry of National Defense said the Chinese military strongly opposes the US arms sale, calling the action a "complete mistake" and "very dangerous".