Upstart Wang's got a Grand plan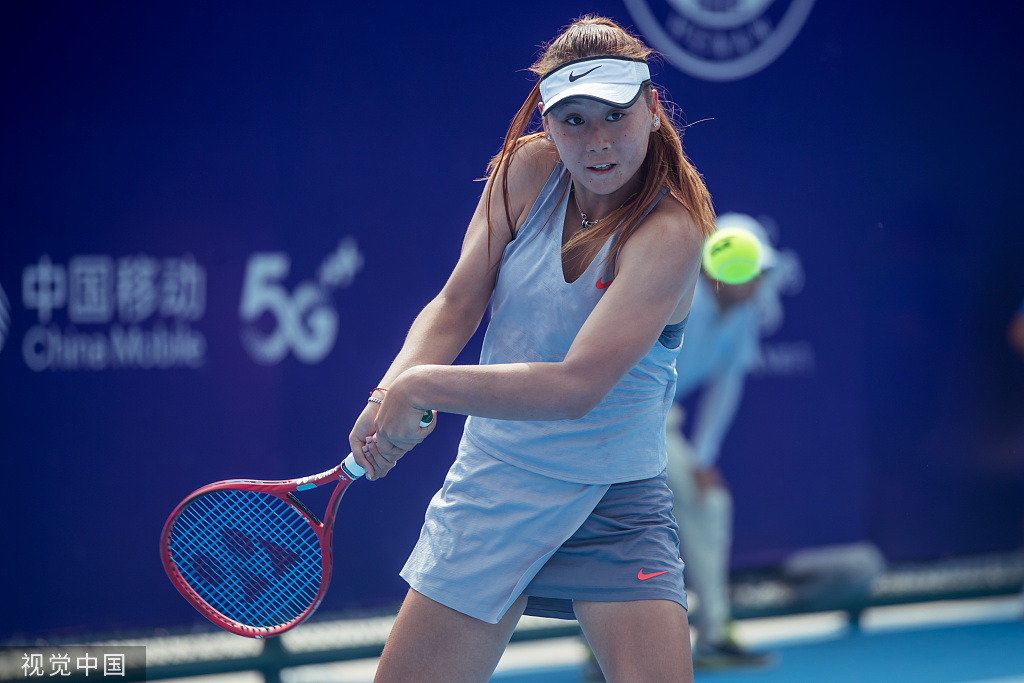 Chinese teen reveals major ambitions after making breakthrough at this week's prestigious Zhengzhou Open
Chinese teenager Wang Meiling is already dreaming of winning a Grand Slam after playing in her first WTA Premier 700 event this week.
The 19-year-old, who reached the main draw at the inaugural ICBC Credit Card Zhengzhou Open through the qualification rounds, showed plenty of promise in her debut at the tournament on Tuesday before eventually succumbing 6-3,6-4 to world No 53 Polona Hercog of Slovenia.
"I was both nervous and excited before the start of the match," Wang told China Daily. "However, I told myself there's nothing to worry as I was playing against such a high-ranking player. I just needed to try my best.
"I always consider Zhengzhou my lucky place. I made many breakthroughs here in different matches. So far my biggest achievement is to qualify for the Zhengzhou Open.
"I wish to go further in the future. I hope one day I can not only play in a Grand Slam but also win one."
Wang is in elite company at the newly upgraded Zhengzhou Open, which offers $1.5 million in total prize money and features a host of big names, including world No 2 Karolina Pliskova, No 3 Elina Svitolina and former world No 4 Caroline Garcia.
Wang made a special effort to go and watch her idol Garcia in action-a first-round victory over Tereza Martincova of the Czech Republic.
"After the qualification rounds, I hoped she (Wang) would have a rest back at the hotel," said Zhang Xingguo, Wang's coach. "But the little girl told me that she would stay because she wanted to watch Caroline Garcia's first-round match. She just wanted to learn."
And Wang hopes one day she will get the chance to test herself against the French star. "I'd be super excited, but I'd show her what I'm capable of," said the plucky teen.
The Zhengzhou Open marks the start of the Asian swing for Wang, with coach Zhang hoping his charge can win enough matches in China to get a shot at qualifying for next year's first major, the Australian Open.
"From now on she needs to play her best to earn as many ranking points as possible," said Zhang. "There are seven more matches in China for us to play. If we can have good results, we can enter the qualification for the Australian Open next year.
"Just like the Zhengzhou Open, there are more and more high-level tennis tournaments in China now. Women's tennis is becoming more and more important in China. There are more chances for Wang's generation to level up their world rankings."
Indeed, young Chinese pros have never had it so good in that regard.
When China's International Tennis Hall of Famer and two-time Grand Slam champion Li Na played her first professional match in 2000, there was just one WTA event in the world's most populous nation. Now there are nine, with the arrival of the WTA Finals in Shenzhen this October undoubtedly the most significant addition.
"Compared to the time when I was their age, the generation of Wang Meiling enjoys a much better environment. I believe this generation can achieve big things," said Lu Jiajing, a 29-year-old Chinese qualifier in Zhengzhou.
Wang is also taking inspiration from another trailblazing 19-year-old-Canadian Bianca Andreescu, who stunned the world last weekend by defeating 23-time Grand Slam champion Serena Williams in the US Open final.
"I was shocked to learn the result of the US Open, as I'm the same age as Andreescu," said Wang. "There are still so many things for me to learn. I need to improve step by step."