Ambassador lauds China's achievements
China Daily | Updated: 2019-09-11 09:43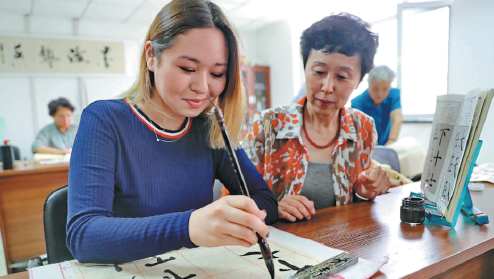 He says two nations have similar strategic guidelines, adding that eastern neighbor brings strength and impetus to global growth
As China's neighbor and strategic partner, Kazakhstan appreciates China's achievements in fields such as social welfare, improvement of people's lives and poverty elimination, Shakhrat Nuryshev, Kazakhstan's ambassador to China, told Xinhua News Agency earlier this year.
In these aspects, leaders from China and Kazakhstan have similar strategic guidelines, ensuring all people's well-being is fundamental for a country's prosperity in the 21st century, he said.
Nur Otan, the ruling party of Kazakhstan, held its 18th national congress in February and passed its development guidelines for the period before 2030. The guidelines include new measures and priorities, such as guaranteeing people's high living standards, increasing their income and helping the low-income group, as well as improving education and healthcare, according to the ambassador.
China has accumulated rich and successful experience when dealing with the similar issues, Nuryshev said, adding that he paid attention to "Chinese solutions" to the issues during this year's two sessions in March.
"We think highly of China's persistent efforts in poverty alleviation," Nuryshev said.
He said China lifted more than 10 million people out of poverty every year in recent years. He said China did not enjoy the results alone, but shared its successful experience and stories with other countries and regions on reducing poverty.
The Belt and Road Initiative, which was proposed by the Chinese government in 2013, also won praise from Nuryshev and he said it significantly increased liberalization of international trade and investment.
Nuryshev said the initiative has won support from the majority of countries on the five continents and China has signed cooperation deals with more than 150 countries and international organizations. Trade in goods between China and other countries and regions involved in the initiative has reached $6 trillion in total to date.
It, beyond doubt, will help people from related countries and regions to gain welfare, Nuryshev said.
He said Kazakhstan is an important hub among different continents, countries and regions and the country's new economic policy, called Nurly Zhol - or "bright path", and the BRI are being connected smoothly. In total, 55 projects worth more than $27 billion are being implemented under the frameworks of BRI and Nurly Zhol, which will help fund companies that make high value-added products and create jobs.
"I think connection between the Nurly Zhol policy and the BRI not only helps increase the two countries' economic and trade relations, but also will promote such relations between Europe and Asia," he said.