Kids' wear companies go live to tap profits
By Ma Zhenhuan in Zhili, Zhejiang | China Daily | Updated: 2019-09-11 14:01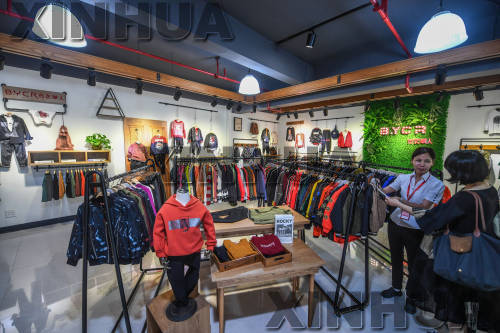 A microphone, a video-camera and a floor lamp, that is all the equipment Ma Weizhong needs to rake in sales worth hundreds of thousands of yuan each month for his B.ycr kids' clothing company in Zhili, a town of about 18,000 people in East China's Zhejiang province.
"We launched our livestreaming sales studio only three months ago and now we can sell over 200 sets of our garments on it each day," said Ma, chairman of Zhejiang B.ycr Clothing Co, in an interview with China Daily.
Satisfied with the new sales record brought about via the livestreaming sales platforms, Ma said that the nation's booming e-commerce has come as a huge hit for kids' wear manufacturers in Zhili, usually relying on physical stores or franchising as their main marketing and sales channels.
"For us, we must emphasize both retail shops and online sales. Our efficiency is greatly improved and costs greatly reduced by taking advantage of online livestreaming tools," he said.
For example, B.ycr Clothing recently hosted an online livestreaming new kids' garments release in which Ma invited his clients nationwide to scrutinize his company's new season's designs that were "just a click away".
"In the past, we usually spent a lot of labor, time and money inviting our retailers and distributors to Huzhou and hosting an on-site garment fair for new orders. Now they can view and comment on the designs in real time. So, we can revise our garments before the real manufacturing starts," he said.
"Through new IT and internet tools, we can adapt to the changes in market demand much faster," Ma added.
Ma is just one of the hundreds of kids' wear manufacturers who had been shifting their sales channel from physical stores and Taobao shops to online streaming platforms such as Douyin (TikTok), Kuaishou and Taobao Livestreaming.
During a livestreaming sales event hosted by Taobao Livestreaming and the local authority in early December, 50 livestreaming anchors worked with 50 local manufacturers to rake in a record 20 million yuan ($2.8 million) in sales in one single day, opening a brand new sales mode for traditional garment manufacturers.
"The sales performance was extraordinarily good. I raked in a sales volume of over 800,000 yuan in one day, almost equivalent to the amount achieved during the last Singles Day (double-eleven) online shopping gala. I have full confidence in livestreaming sales," said Chen Haiping, a local kids' wear producer in Zhili.
According to a recent report released by China Tech Insights, a research unit affiliated with Tencent's Online Media Group, it is more than likely that livestreaming will become a standard feature of all e-commerce platforms in China in the near future.
"In my opinion, livestreaming sales will be an inevitable trend, and we should integrate both offline and online channels and tap a bigger market share," said B.ycr's Ma.