Young artisans keep the creative spirit of Suzhou alive
By Zhang Kun | China Daily | Updated: 2019-09-12 09:23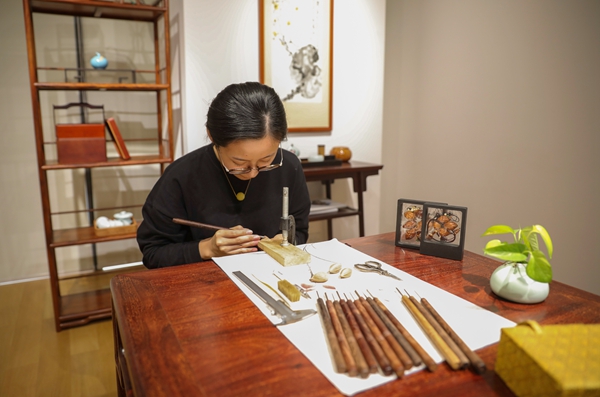 Artisans in Suzhou, Jiangsu province, have enjoyed fame in China for thousands of years, and today a new generation is keeping the tradition alive, creating new works for modern times.
The Suzhou Artisan Garden, which officially opened in November 2018, is the home station for 64 master artists. The exhibition space at the Phoenix Culture Industry Park in Suzhou's Wuzhong district showcases some of the finest creations by the celebrated Suzhou artisans.
For over 1,000 years, people from Suzhou built imperial palaces decorated with pillars, windows and gardens with sculptures and paintings. They made furniture with mother-of-pearl, clothes with fine embroidery and jewelry with intricate designs.
"People from Suzhou and the nearby area seem to have a natural talent for aesthetics," says Cai Xiaming. The 51-year-old has worked with silk embroidery and fine tapestries for more than 30 years. She and Zhong Jinde, a 56-year-old carpenter, began as apprentices in local factories. It was a period when China began to open up to the world and small factories and workshops mushroomed in the suburban areas of the Yangtze River Delta.
Cai used to work in a factory that made kimono belts for the Japanese market. Now, the exquisite craftsmanship of fine silk tapestries is used to reproduce classical Chinese paintings and haute couture fashion designs. Later this month, Cai will travel to France, where she'll make men's suits. "I was invited to showcase the craft at the fashion show," she says, proudly. Nowadays, the young generation of artisans choose the career for love instead of livelihood.
So, Zhu Mengjia, for example, had to subsidize her crafts studio with a second job during an especially difficult period.
The 26-year-old is one of the young artists featured at the center, who creates miniature sculptures from olive pits.
The craft known as "peach pit carving" has existed in China for more than 600 years. Olive pits became more popular over time. On the tiny surfaces of fruit pits, artists create statues and portraits, flowers and birds, and even boats with passengers. The traditional craft was listed as an intangible cultural heritage of China in 2008.
A famous essay by Wei Xueyi (1596-1625) vividly records a fine pit carving depicting a boat, with eight windows on the cabin and five people onboard, each striking different poses. Fine examples of these carved-pit boats can still be found in museums in China.