You shows she's made of right stuff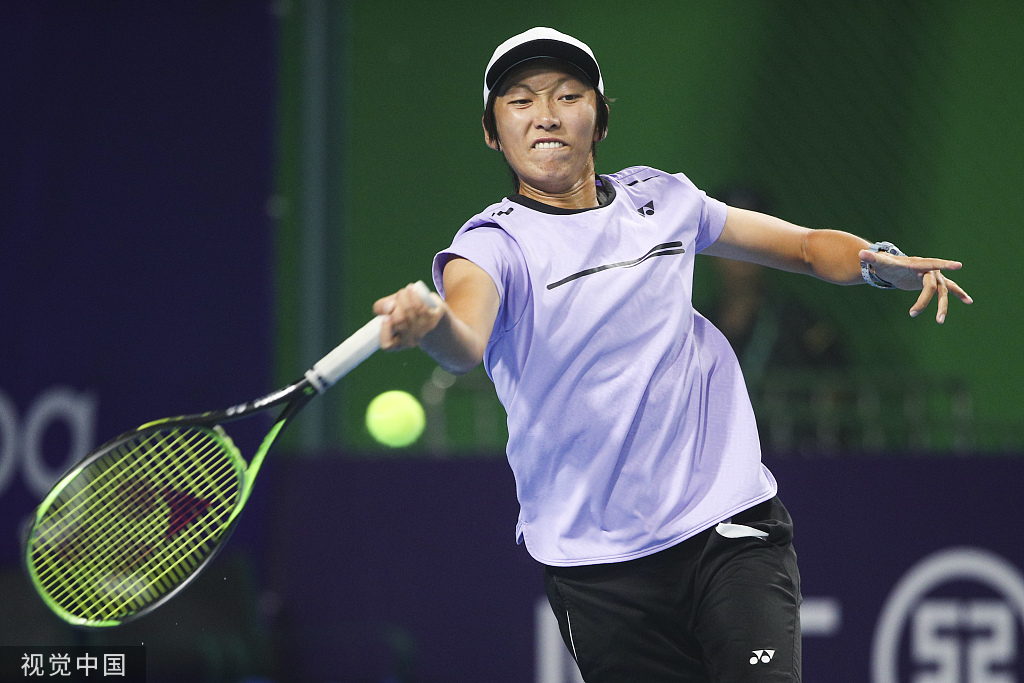 After impressive showing against Ostapenko, the future looks bright for young Chinese
China's You Xiaodi walked away from her first battle with a Grand Slam champion with her head held high - and possibly the frustrated roars of Jelena Ostapenko still ringing in her ears.
You romped to a second-set bagel to tie the match against the 2017 French Open champion and ignite the passion of the home crowd at the inaugural ICBC Credit Card Zhengzhou Open on Tuesday night.
Latvia's Ostapenko was forced to draw on all her experience and eventually prevailed 6-3, 0-6, 6-2 to advance to the second round of the Premier 700 event.
After negotiating three qualifying rounds and giving Ostapenko a mighty scare, You was left to reflect on an immensely encouraging effort in the Henan province capital.
"It was a tough match and I just didn't want to give up," You told China Daily.
"I kept adjusting my strategies and putting her under pressure. When I knew that I was going to play Ostapenko, I was more excited than nervous.
"It's the first time that I've played a WTA Premier main-draw match and the first time that I encountered a Grand Slam winner."
Following her second-set mauling, a flustered Ostapenko yelled in annoyance at the humiliating scoreline while You remained impressively calm during the outburst.
"I think she played pretty well today, and it was not my best match, not my best performance," said Ostapenko, who struggled to find her rhythm on the windy outdoor court and at one point called a medical timeout.
"It was not easy because the conditions were a little bit tricky, like the wind and all the other stuff. But I think she played good.
"I felt dizzy and my head was spinning, so I did not feel so well. I think that's probably from traveling, jet lag, tiredness. It was very difficult. But I'm glad I managed to win today."
For world No 232 You, climbing the rankings is now the immediate goal. When asked about her dream, the usually soft-spoken player answered loud and clear: "Of course, it's a Grand Slam."
"I'm steadily improving this season and I just want to make more breakthroughs," the 23-year-old added.
"I hope I can play more WTA matches in China, but it's not easy given my current ranking.
"The next step for me is to level up my ranking to 180 or so, then 150. I'll just try my best to go higher and higher."
You first picked up a racket when she was 5 years old but, coming from a non-athletic family, she was not pushed into pursuing a professional career by her parents. Unlike some players on the circuit, it seems You's passion for tennis comes almost entirely from within.
Beneath her quiet demeanor lies a steely determination to succeed in the sport she loves, inspired by her idol, Spanish superstar Rafael Nadal.
"Nadal has been my hero since I was a little girl. He's the kind of player who can stand up and fight no matter how hard the situation is," said You.
"Every time I'm exhausted on the court, I just think what he would do under those circumstances. So I just need to move faster and hit the returns harder, with stronger will.
"I met Nadal years ago at the French Open when I played in the girls' draw. Although I was preparing for the qualifying matches of the Zhengzhou Open, I still watched his US Open final that morning. Then I won my match that afternoon.
"I'm so happy for him to win the title. It was a tough match."
shifutian@chinadaily.com.cn