Elkeson's instant impact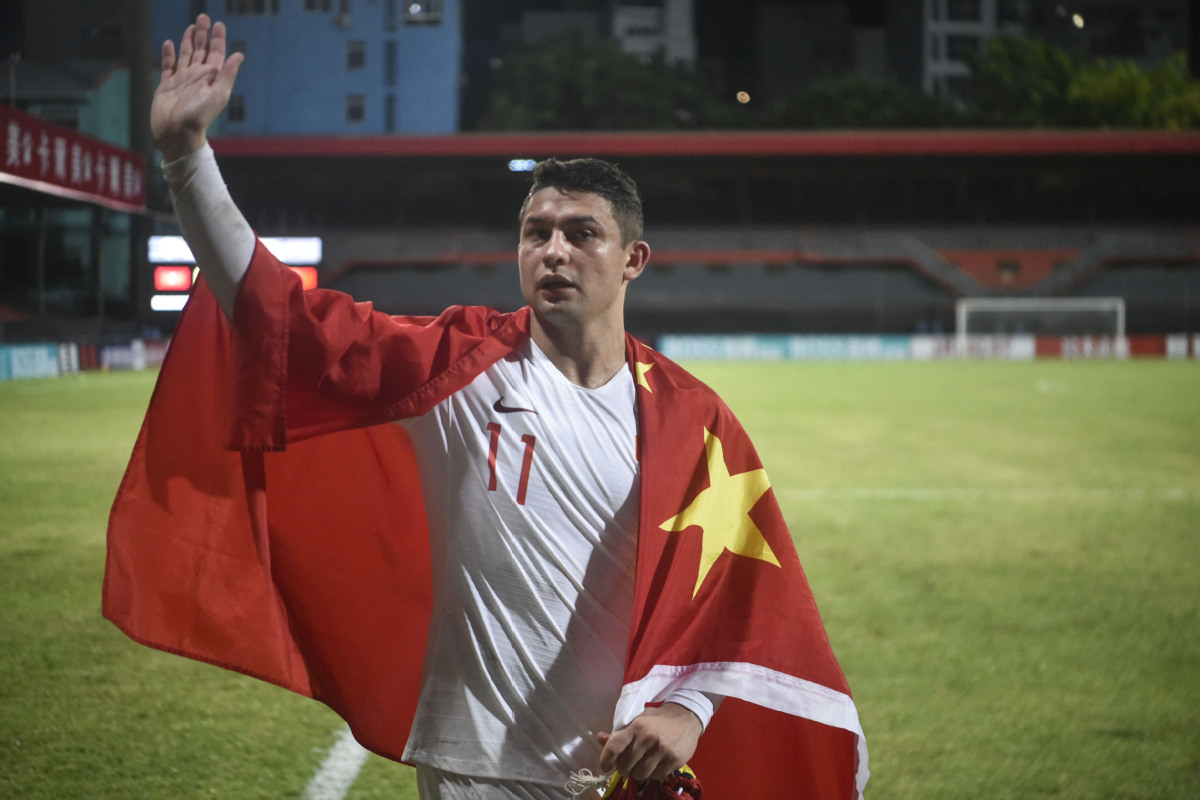 Brazil-born forward stars as Team China romps to morale-boosting win in Maldives
China's controversial talent naturalization policy paid immediate dividends as Marcello Lippi's squad got its 2022 World Cup qualification campaign off to a flying start on Tuesday.
Roared on by a large contingent of traveling fans, China's Brazil-born forward Elkeson proved the difference maker, netting two goals in his debut as the visitor romped to a 5-0 victory over the Maldives at Rasmee Dhandu Stadium in Male.
China's other newly naturalized player, London-born Nico Yennaris, aka Li Ke, also contributed with a late cameo off the bench on a night when Lippi made good on his pre-match pronouncements that fans would finally see a more convincing performance from his charges.
Elkeson, the first player without Chinese heritage to don the red jersey, took center stage on his historic night with his late brace capping an impressive all-round display.
At the final whistle, the Guangzhou Evergrande star and Yennaris draped themselves in the national flag before soaking up an appreciative reception from hundreds of red-clad traveling fans.
"I am very satisfied with today's result; taking all three points is just the first step of our campaign for the tournament," Lippi told the post-match media conference after a win that sent China to the top of Group A.
"Elkeson's partnership with Wu Lei is a strong combination for our attack. His two goals in the second half showed his class and I am happy with the our overall fighting mentality today."
After Wu Xi's 33rd-minute header broke the deadlock, Espanyol's Wu Lei extended China's lead on the stroke of halftime.
Yang Xu maintained the momentum by converting a 64th-minute penalty before Elkeson's double rounded out the scoring.
China will likely face a tougher test in its next match, when it hosts Guam in Guangzhou on Oct 10 in a group that also features Syria and the Philippines.
The eight winners of each group and the four best runners-up will advance to a final qualifying round to compete for three direct berths for the 2022 World Cup in Qatar.
Having not qualified since a sole appearance at the 2002 finals, China decided to embark on the controversial naturalization route, copying the likes of Qatar and Japan.
Despite concerns over the public reaction, the Chinese Football Association has targeted a total of nine players who are either already eligible for selection or are in the middle of the paper work.
Still, the policy remains a sensitive subject.
"It's quite a struggle personally for me to consider to use naturalized players on the national team as I originally disagreed with this idea," new CFA president Chen Xuyuan said after being elected to the post last month.
"That's a compromise we had to make to realize our imminent goal of qualifying for Qatar. But it's not going to be part of our long-term strategy and we will only field a limited number of naturalized players as key supplements to our homegrown roster."
After stepping down as China's coach following a failed campaign to reach the 2018 World Cup finals in Russia, Italian guru Lippi returned to the post in June, reportedly on condition that the CFA gave the go-ahead for naturalized players.
The flair and goals that Elkeson's inclusion has instantly added up front will go a long way to silencing any opposition to the policy.
Meanwhile, the sight of Elkeson singing the national anthem before kickoff and a video posted on Weibo showing his son cheering him up by saying "Jia You! Ai Kesen!" will no doubt further endear him to the Chinese public.
"It was a special day for my career to be able to suit up for a national team and to score for my adopted home country in my debut," Elkeson said through an interpreter after the match.
The 30-year-old forward, who signed with CSL giant Evergrande in 2012 and has played a major role in the southern club winning three league titles and two AFC Champions League crowns, said he is learning Mandarin and is anxious to embrace Chinese culture.
His Brazilian compatriot and Evergrande teammate Paulinho, who is said to be on CFA's naturalization radar, congratulated Elkeson in an Instagram post, saying "You well deserve it!", accompanied by a photo of Elkeson holding the national flag.
Some fans, however, still remain opposed to the notion that a player with no family links to China can pull on the red jersey.
"I don't think it's a good idea to bring in players without any Chinese ancestry," said Zhao Wen, leader of a Beijing Guo'an fan group.
"Culture-wise and emotionally, it's hard for the fans to see Chinese soccer represented by totally non-Chinese players, no matter how competitive they are."