Late-night diners making a meal of nocturnal nibbles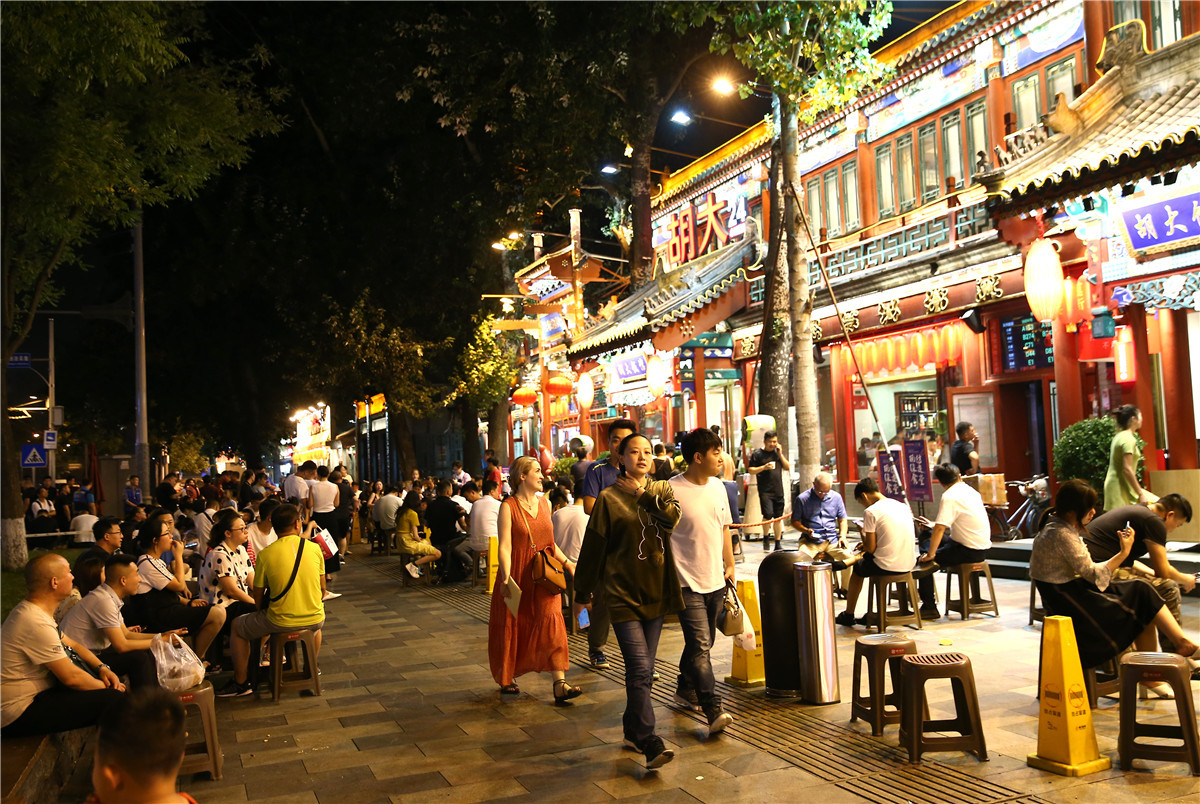 Growing numbers of young people are defying convention and eating long after dark. Wang Xiaoyu reports.
You mostly see them after 10 pm; crowds of late-night diners gathering and advancing slowly along sidewalks under the fluorescent city lights.
There are the bleary-eyed office workers emerging after overtime, the jabbering partygoers looking to replenish their energy, and the barbecue addicts happy to line up for two hours to get into hot spot restaurants.
As daytime leisure opportunities are often edged out by long, intense working hours, a growing number of young Chinese are abandoning the established norm of three meals a day and making late-night bites a staple of their lives.
"Barbecue skewers, hotpot and grilled seafood are some of my obsessions at night. We don't limit our choice of venue - both street vendors and well-known food chains can provide satisfactory experiences," said Gao Nan, a 24-year-old web developer in Beijing, who visits restaurants to eat late almost every weekend.
"The salty, greasy fare and the rumble of the crowd, all under the cover of darkness - it's an unusual combination that somehow helps me escape the daily grind, recharge and prepare for another week of hectic schedules," Gao said.
She knows that on the night streets of Beijing, she will never be alone among the sleepless souls in search of food after a stressful week.
According to a report published in March by the China Tourism Academy and Meituan Dianping, the country's leading e-commerce platform for services such as food deliveries and bike sharing, Beijing, Shanghai and Shenzhen, Guangdong province, top the charts for the cities with the highest spending on food per person long after darkness has fallen.
Even though expenditure between 6 pm and 9 pm - the usual time for dinner - accounts for nearly 65 percent of the total, spending on food between 9 pm and midnight covers about 27 percent, it said.
The Beijing authorities have recently acknowledged the trend by rolling out a series of measures to spur consumption after dark, including urging late-night eateries to improve the services they offer, establishing nighttime landmarks and extending the operating hours of the city's subway lines.
In the face of the growing trend, some health experts have voiced objections to such unorthodox dietary habits. Fan Zhihong, a professor at the College of Food Sciences and Nutritional Engineering at China Agricultural University and one of the best-known nutritionists on Chinese social media, said binge eating late at night is linked to a higher risk of developing cardiovascular disease.