Relocation of rural children gives them a chance to dream
China Daily | Updated: 2019-09-12 11:03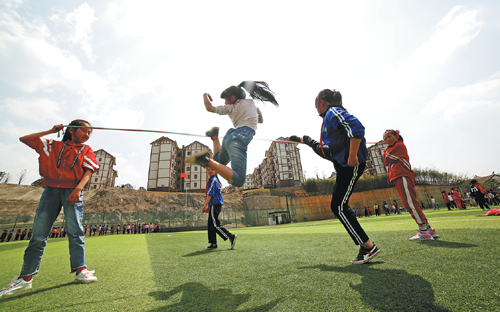 Poverty relief policies are helping poor village families find new homes and futures
Zhu Yu had an unforgettable summer holiday as one of 12 girls from her community who performed dances in rural parts of Guizhou province in Southwest China.
When they performed sign language dances in 22 poverty-stricken villages on Wumeng Mountain, it was the first time most villagers had seen such a performance. Sign language dancing involves moving the fingers of one hand across the flattened palm of the other to mimic dancing legs.
Zhu, 11, was born into an impoverished rural village in Bijie, Guizhou. Many impoverished farmers had to leave their hometown due to the lack of arable land in the area. They left to look for better opportunities and higher-paying jobs in prosperous regions.
Yang Youyue, a year older than Zhu, remembers her old home in Guda village. "The roof could hardly keep out the wind and rain as the tiles had fallen off," she said.
Yang moved with her mother to Zhejiang province to escape poverty and get away from her alcoholic father. Since the age of 5, Zhu has dreamed of becoming a dancer after watching a dance competition involving a Chinese troupe on television.
She often imitated dance moves on TV programs, but thanks to poverty alleviation policies, she has been able to pursue her dream.
Zhu's family and other Guda villagers were relocated in June last year to a residential community in Hezhang county, Bijie, about 50 kilometers from their hometown.
The community, equipped with modern infrastructure and facilities, is now home to more than 9,000 impoverished people from remote villages.