The world's highest cultural space shines on top of Shanghai
By Zhang Kun in Shanghai | China Daily | Updated: 2019-09-14 10:20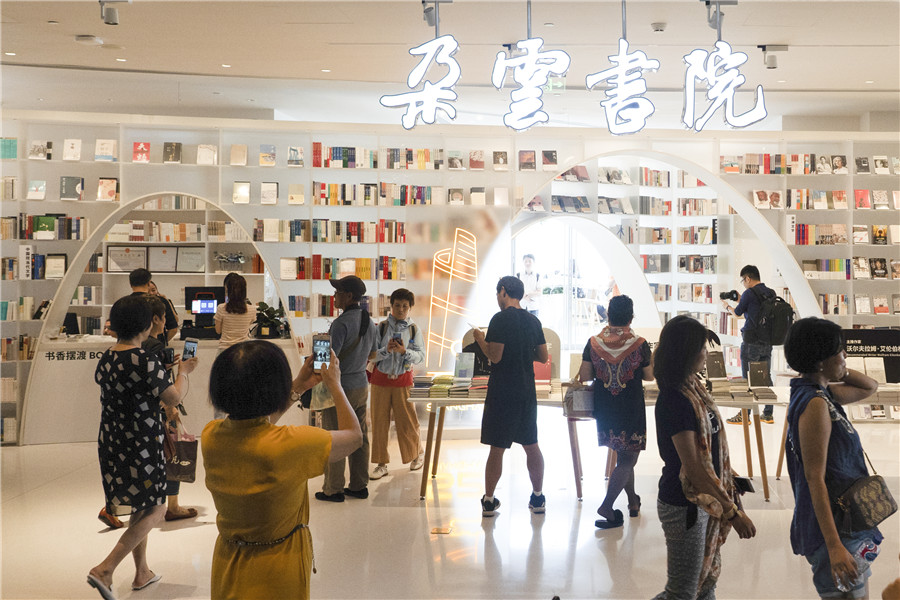 Based on the 52nd floor of Shanghai Tower, the new flagship store of Duoyun Books appears to be at home among the metro's towering heights, as if to indicate the kind of heights of success it would like to scale.
Arguably, it is the highest bookstore in the world, and has received throngs of visitors since its opening on Aug 12.
On its first day, enthusiastic visitors had to wait for three hours before they could take the elevator of the tallest skyscraper in the country to reach the bookstore 239 meters above the ground floor.
The store released data relating to Aug 17, its first weekend business day. "We received more than 4,000 customers, and achieved total sales of 130,000 yuan ($18,151)," He Xiaomin, the public relations manager of the store, said.
"We can hold no more than 350 customers in the store, so when that number is reached, we have to stop people from coming in, and keep them waiting downstairs," He said.
According to Wang Lan, president of the Shanghai Century Publishing Group Co Ltd, the company chose to open the Duoyun Books flagship store at Shanghai Tower because the skyscraper in Lujiazui "represents the height and new development of the city".
Another Duoyun Books store opened last year at the Guangfulin Park, where relics of ancient culture dating to the Neolithic Age were unearthed in suburban Shanghai's Songjiang district.
The new flagship store has a space of 2,200 square meters, with 60,000 copies of books on display. According to Wang, Duoyun Books at the Shanghai Tower will be a cultural space of great height, as well as a warm home for people's spirit.
In order to achieve this goal, Duoyun Books joined hands with Douban.com, one of the most popular reading-themed websites in China, to recommend books that are rated high, with comments from the website users thrown in for good measure.
A special section is dedicated to the esteemed London Review of Books, with carefully selected books and merchandise available. More than 3,500 copies of books in languages other than Chinese are showcased.
During the Shanghai Book Fair from Aug 14 to 20, Duoyun Books at the Shanghai Tower was one of the branch venues, where five book readings, lectures and talks took place. Also, the bookstore has launched its own book club named "The Top of Shanghai", hosting talks, workshops and other events every other week.
Revenue from the sales of books was no more than 30 percent of the business volume in the first week. Customers are required to buy a beverage, usually priced 30 yuan to 40 yuan, before they are allowed to enter a viewing platform overlooking the Lujiazui area and Huangpu River.
"We are a tenant of the Shanghai Tower office building," He said. "We have to pay the rent, only at a different rate from commercial tenants, because we are a cultural institution." She declined to reveal the figure though.
Strolling in the bookstore, you could see that aside from avid booklovers there are quite a number of curious tourists attracted by the view or publicity.
"A friend came first and waited in line for us for a whole hour before we could come in," said Liu Ping, a tourist from Ningbo, Zhejiang province.
She came with her son and three other families. "We came because it is a new attraction and an internet sensation," she said. Her son, 9, sat on the ground with three children of the same age, reading picture books. "It is a pity that there are only a few books for children, and the few copies we found are not exactly suitable for children," she said.