Thirteen Hongs: China's Trade Legacy
By Qiu Quanlin | China Daily | Updated: 2019-09-14 10:52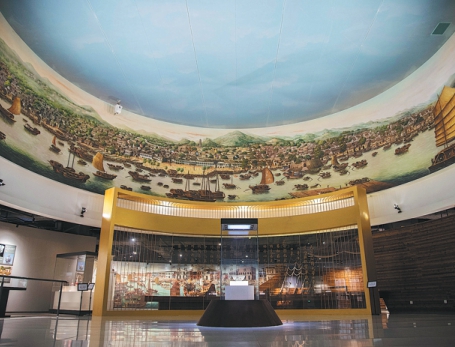 Thirteen Hongs, also refers to the location of the trade houses, the hong merchants and the system in use. From 1757 to 1842, Guangzhou was the sole Chinese port that handled trade with the West, becoming a frontier of political, economic and cultural communication, Ge said.
In 1757, the Emperor Qianlong, cautious about political and commercial threats from abroad, ordered that Western merchant ships could only anchor and trade in Guangzhou.
While Guangzhou was far away from Beijing, the capital, and had always been a trading port, the Qing government thought it was good idea to confine trade to the southern Chinese city.
Guangzhou played an important role on the ancient Maritime Silk Road, establishing trade relationships with some of the world's great port cities starting in the Han Dynasty (206 BC-AD 220).
"As Guangzhou represented the direct connection of China and the West during the time the oneport policy was in effect, the Thirteen Hongs Museum is a perfect place to display how the trade policy of the Qing Dynasty operated and how Guangzhou trade prospered during that time," said Wang Yuanlin, a professor at Jinan University in Guangzhou and director of the Guangdong Pearl River Delta Culture Research Association.
The Thirteen Hongs Museum, with an area of 4,700 square meters, was created in 2016. It is located on the original site of the old trading zone of the Qing Dynasty (now Guangzhou Cultural Park).
"Although the Thirteen Hongs had already ceased its historical role, its spirit of credibility, practicality, adventure and tolerance are still carried on by Cantonese businesses," Wang said.
The museum is thematic, with two permanent exhibitions-and exhibition of Guangzhou's Thirteen Hongs during the Qing Dynasty and a display of donated artifacts from Wang Heng and his wife, Feng Jie.
The first exhibition hall covers 2,450 square meters and has six parts. It systematically shows the history and prosperity of the Thirteen Hongs, including foreign trade, Hong merchants and other historical landmark trade events.